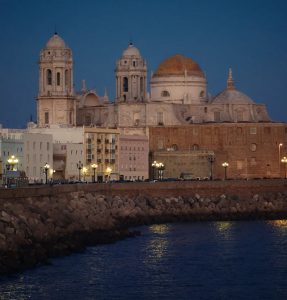 Rental cars are available at Cadiz's travel centre, train stations (Cadiz Railway Station, Cadiz-Estadio, Estación del Trocadero, Cádiz Universidad, Las Aletas, Puerto Real, San Fernando Bahia Sur Railway Station and San Fernando-Centro) and airports like Naval Station Rota, Jerez Airport and Algeciras Heliport, CDZ and ferry terminals and ports (Dársena del Dique Seco, Dársena Comercial, Cadiz Harbour). A car hire service where every cost is included, no hidden fees and free cancellations/amendments up to 24 hours before you pick up the car. Easy and safe online booking of rental cars. Search for a city, airport etc. and choose a pick up place.
Find the best prices for rental cars online. Comparing prices online can be very profitable, many smaller companies can otherwise only be booked on site. Comparison of rental cars and car hires from several businesses in the town of Cadiz, Spain. Hertz Renfe on Adif Estacion de Plaza de Sevilla, Enterprise on Conc Honda Calle Puerto Real, Europcar on Estacion de Renfe Plaza de Sevilla, Thrifty on Avenida José León de Carranza 18, Avis on Dentro del Concesionario Bahiamovil Calle Villa de Rota 56, Budget on C Villa de Rota S O Volkswagen Only del & Col are the companies we compare near Cadiz to find the best price.
Cadiz (La tacita de plata, Gadir, Cádiz, Cadis, Gades, Cai) is located in the municipality Cadiz, Andalusia region, Spain and is a town. It is the central city in the area. It is the 9th largest town/city when it comes to inhabitants in the region and the 72th largest city/district in Spain. Jerez de la Frontera (c. 207500 pop), San Fernando (c. 96400 pop) and El Puerto de Santa María (c. 87700 pop) are other larger communities, cities nearby. Whether you are visiting the town Cadiz just for one day or for a longer period, there is plenty to do. Read more further down. About 126 800 (2015) people live in the town. The city is located about 22 meters above sea level. Smaller villages, communities and suburbs nearby are Vejer de la Frontera, Villamartín, Medina-Sidonia, Bornos, El Cuervo, Puntales, Zona Franca de Cadiz, Matagorda and El Trocadero. We also give tips on which companies offer rental cars in Cadiz.
Suggestions on attractions, museums, activities, events, experiences, places and destinations that are worth a visit during your trip to the town Cadiz. Spend a day tasting wine! Nearby wine producers and vineyards are, Lustau, Valdivia, Gonzalez Byass, Marqués Del Real Tesoro, Manuel Aragón and Rey Fernando De Castilla, if you are planning a wine tour and tasting in Cadiz. Famous and interesting palaces, villas and mansions in the city are Palace of la Condesa de Casares, Palacio Domecq, Palace of Campo Real and Palace of Villa Real Purullena. Castillo de (Castle) San Lorenzo del Puntal, Castle of Doña Blanca, Castillo de (Castle) Santa Catalina, Castillo de (Castle) San Sebastián, Castillo de (Castle) San Marcos and Castillo de (Castle) San Romualdo are new and old castles that we recommend a visit to and are located in Cadiz. Fort of La Cortadura, Alcazar of Jerez de la Frontera and Bastion of Calendaria are exciting old fortresses, strongholds and forts to visit. Do your shopping and make some bargains at Cádiz Central Market, these are markets that are close by and well worth a visit.
Minigolf Bahía are water parks, amusement parks or theme parks nearby. If you are craving for activities and experiences with your children. Tropical houses, tropicariums, zoos, safari parks, aquariums, and terrariums in the surrounding area of the city are Zoobotanico Jerez. Want to look at some exotic animals? Look at famous statues and monuments of famous people and events like Monument to la Constitución de 1812, Guideo App and Puertas de Tierra. Visit nice squares and large open spaces in the central parts of town. Plaza de San Antonio, Plaza de Mina, Plaza de San Juan de Dios and Place d'Espagne de Cadix are nearby. Historical and archaeological attractions that are worth seeing nearby are Batería de San Genís. If you want to visit a museum you can choose between Museum of Cádiz, which are within a walking distance from the town centre.
Relaxing and beautiful green areas, parks and plantings worth seeing are Park Genovés and Gardens of Alameda Apodaca. Beautiful churches or cathedrals not far away are Parish Church of la Merced, Convent of San Francisco and Parish Church of Nuestra Señora del Carmen y Santa Teresa. To see and experience music, shows and plays at Theater José María Pemán, Gran Theater Falla, Theater Romano de Cadiz and Fundación Provincial de Cultura. A day for relaxing and sunbathing on the beach at Playa de Valdegrana, Playa de Levante, Playa de la Victoria, Caleta Beach, Playa de La Muralla and Playa Las Dunas S Antón. They are all close to the town.
Castle of Sancti Petri are historical ruins of buildings and objects worth seeing and studying. Arco de la Rosa are old arches and arcs that could be worth seeing during your visit. Are you going on a golf trip and looking for golf courses? The golf courses, Golf El Puerto 11 km, Villa Nueva Golf Resort 14 km, Club de Golf Vista Hermosa 7 km and Sherry Golf Jerez 19 km, are located close to the city.
Car hire in airports nearby
Car hire in airports nearby: Seville-San Pablo Airport, Jerez Airport and Morón Airport.
Car rental companies in Cadiz, Spain
To find the best price we compare following companies Europcar, Rhodium, OK Rent a Car, Delpaso, Malco Rent a Car, Marbesol, King Rent, Budget, TopCar, Avis, Orcar Canarias, Nomadcar, ClickRent, La Palma 24, Centauro, Sixt, Keddy By Europcar, Autos Menorca, Autos Valls, Niza, Firefly, Alamo, Orlando, Wiber, Autos Aguirre, Hertz, Faycan, Thrifty, Enterprise, Goldcar, Class Rent a Car, Dickmanns, Cooltra Scooter, Solmar, Hiper Rent a car, Canarias.com, Surprice, Flizzr, National, CICAR, Maggiore, Hertz Dream Collection, Owners Cars, InterRent, Drivalia, Atesa, Autoclick, AutoReisen, Dollar and Record in Cadiz. You can usually find the largest selection at airports such as La Parra Jerez de la Frontera Airport, Morón Airport, Algeciras Heliport and Naval Station Rota Airport. The large companies usually have offices adjacent to the airport.
Car Hire & Rent a Car Cadiz Customer Reviews & Feedback