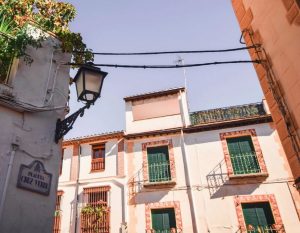 Rental cars at Cordova's train stations (Córdoba Central Railway Station, El Higueron and Estación de Valchillón), travel centre and airports like Córdoba Airport, ODB. We have an easy and safe booking system of rental cars online. Search and choose your destination, search for country, city etc. and choose from the list. A car hire service where every cost is included, no hidden fees and free cancellations/amendments up to 24 hours before you are supposed to pick up the car.
Comparison of rental car prices and car hire from several businesses in the town Cordova in Spain. Find the best prices for rental cars. It always pays off to compare before you book, in some smaller communities local companies can have very competitive prices. When you are looking for rental cars we compare these companies Enterprise on Estacion de Autobuses Plaza de Las Tres Culturas S, Europcar on Car Return Parking Estacion Autobuses Plz 3 Culturas Calle Tartesos, Thrifty on Avenida Via Augusta, Avis Estación de Tren on Renfe Station Plaza de Las Tres Culturas Sn, Alamo on Estación de Autobuses, National on Estación de Autobuses, Budget España on Plaza de Las Tres Culturas Sn Renfe Estación, Budget on Glorieta Tres Culturas, Hertz Bus Station on Avenida Vía Augusta, Sixt on Avenida Vía Augusta.
Cordova (Córdoba, Kordoba, Còrdova, Corduba, Cordoue, Cardoue) is a town in the municipality Cordoba, Andalusia region, Spain. It is the central city in the area. 3th largest city/town when it comes to inhabitants in the region and the 12th largest town/district in Spain. Larger neighbouring cities/communities are Écija (c. 40400 pop), Puente-Genil (c. 30000 pop) and Montilla (c. 23800 pop). Read more about what the town has to offer when it comes to experiences and which companies are located in Spain and Cordoba. Aguilar, La Carlota, Estepa, Peñarroya-Pueblonuevo, Alcaudete, Alameda del Obispo, Las Ermitas, Las Quemadas, El Higuerón and Alcolea are small villages, suburbs and communities nearby. The city is located about 117 meters above sea level. With about 328 400 (2015) inhabitants. Bus stations and bus stops in the city are Córdoba Bus Station. Learn more about which companies are located in the country.
Tips and suggestions on places, events, activities, museums, attractions, experiences and tips on destinations you can visit during your stay in Cordova, can be found here. Écuries royales de Cordou, Diocesan Museum of Córdoba, Museo Arqueologico, Casa de Sefarad, Centro de Arte Contemporáneo C4, Museo Julio Romero de Torres, Museum of Bellas Artes de Córdoba and Alcazar of the Christian Monarchs are located nearby. Maybe a day at the museums and art galleries of the town? Casa del Bailío are close by if you are interested in the exciting history and archaeology of the area. Keen on seeing ancient relics, older buildings, antiquities and cultural heritage? These places, Roman Bridge of Guadanuño, could be worth a visit. Watch the local team play? Or see a concert? Watch football? Close to the town centre are the Stadium el Arcángel.
Look at old historical ruins like Madinat az-Zahra. Are you going on a golf trip and looking for golf courses? The golf courses, Club de Campo de Córdoba 9 km, are located close to the city. Amusements parks, water parks and theme parks in and surrounding the city are Aquasierra. Parque Zoológico Municipal are aquariums, safari parks, zoos, tropicariums, tropical houses and terrariums close to the city. In the city, there are interesting monuments and statues of famous people and events like Molino de la Albolafia, Calahorra Tower, Porte du Pont, Templo Romano and La Mezquita. Visit nice squares and large open spaces in the central parts of town. Plaza Colón, Plaza De Las Tres Culturas, Plaza de las Tendillas, Plaza San Agustín, Plaza de la Corredera and Plaza Arzobisto Romero Mengibar are nearby.
Experience local culture at an amphitheatre, Plaza de toros, they are located close to the town centre. Capilla Mudéjar de San Bartolomé, Comunidad de Padres Dominicos, Parroquia San Hipólito, Mezquita Cathedral of Cordoba and Church of San Lorenzo are beautiful cathedrals and churches nearby. Gardens that are worth a visit and are located in the town centre are IMGEMA Botanical Garden of Córdoba and Escritora Elena Fortún Garden. Relaxing and beautiful green areas, parks and plantings worth seeing are Cruz Conde Park, Juan Carlos I Park, Gardens of la Agricultura and Sotos de Albolafia. Older and fascinating buildings such as villas, manors and palaces close to the town centre are Palace of Viana and Palace of La Merced.
Car hire in airports nearby
Car hire in airports nearby: Rent a Car Córdoba Airport.
Car rental companies in Córdoba, Spain
We compare these companies in Cordova or in the region, National, Dickmanns, Surprice, Cooltra Scooter, Autos Valls, Marbesol, Autos Aguirre, Hertz Dream Collection, Rhodium, Avis, TopCar, Enterprise, Goldcar, Autoclick, Hertz, CICAR, Keddy By Europcar, OK Rent a Car, Wiber, Malco Rent a Car, Atesa, Record, La Palma 24, Owners Cars, Solmar, Europcar, Dollar, Drivalia, Maggiore, Thrifty, Flizzr, Faycan, Firefly, ClickRent, Canarias.com, King rent, Delpaso, InterRent, Budget, Hiper Rent a car, Autos Menorca, Sixt, Orcar Canarias, Niza, Orlando, Centauro, Alamo, Nomadcar, Class Rent a Car and AutoReisen. You can usually find the largest selection at airports such as Córdoba Airport. The large companies usually have offices adjacent to the airport.
Car Hire & Rent a Car Córdoba Customer Reviews & Feedback