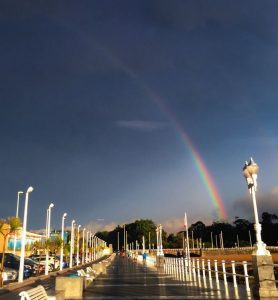 Comparison of rental car and car hire from several businesses in the town Gijón, Spain. Find the best prices for rental cars online. Comparing prices online can be very profitable, many smaller companies can only be booked on site.
Rental cars at Gijón's train stations (Gijón Railway Station, Pinzales, Villabona Tabladiello and Villabona de Asturias), travel centre and airports like Asturias Airport, QIJ and ferry terminals and ports (Puerto del Musel, Puerto Deportivo de Gijón and Gijon Ferry Port). We have an easy and safe booking system of rental cars online. Search and choose your destination, search for country, city etc. and choose from the list. A car hire service where every cost is included, no hidden fees and free cancellations/amendments up to 24 hours before you are supposed to pick up the car. When you are looking for rental cars we compare these companies; Avis on Plaza Nicanor Piñole 3 Esquina Calle Alfredo Truan, Alamo on Estación de Sanz Crespo Calle Sanz Crespo, National on Estación de Sanz Crespo Calle Sanz Crespo, Go Rentacar on Calle Arquímedes 122, Thrifty on Anselmo Cifuentes 12, Hertz Calle Anselmo Cifuentes on Calle Anselmo Cifuentes 12, Budget España on Plaza de Nicanor Piñole 3, Hertz Leroy Merlin on Avenida Roces 514, Enterprise on Estacion de Tren Sanz Crespo Calle Bohemia 6, Europcar on Estacion de Tren Renfe Feve Sanz Crespo Calle Bohemia 6, all with offices on site or in Principality of Asturias.
Gijón (Xixon, Xixón, Gijón/Xixón) is a town in the municipality, Asturias, Principality of Asturias region, Spain. Is a locality in the area. 1th largest city/town when it comes to inhabitants in the region and the 15th largest district/town in Spain. Larger surrounding cities/communities are Oviedo (c. 224000 pop), Avilés (c. 84200 pop), Langreo (c. 45600 pop) and Mieres (c. 44100 pop). Smaller villages, communities and suburbs nearby are Villaviciosa, Pola de Laviana, Lugones, Llanera, Pola de Lena, Pumarín, Natahoyo, Santa Olaya, Tremañes and Braña. Regardless of how long you are staying the town there are things to experience and do. About 277 600 (2015) people live in the town. The community and town is about 22 meters above sea level. We also give tips on which companies offer rental cars in Asturias.
Tips and suggestions on places, events, activities, museums, attractions, experiences and tips on destinations you can visit during your stay in Gijón, can be found here. Stadium Futbol El molinón are located nearby if you want to watch sports or go to a concert. Do you need a car for a golf trip? Golf courses close to the community are Real Club de Golf de Castiello 4 km, Club de Golf La Barganiza 13 km and El Tragamón 3 km. Experience local culture at an amphitheatre, Plaza de Toros (Bullring) El Bibio, they are located close to the town centre.
Find the best car hire and cheapest car rental in airports nearby
Find the best car hire and cheapest car rental in airports nearby: Compare Rental Cars Asturias Airport and Compare Hire Cars León Airport. We allows you to quickly and easily compare results from hundreds of car rental sites at once.
Car rental companies in Gijón, Spain
To find the best price we compare following companies Owners Cars, Faycan, Record, Orcar Canarias, Flizzr, OK Rent a Car, Atesa, Sixt, ClickRent, Drivalia, Dollar, Europcar, InterRent, Niza, Keddy By Europcar, Dickmanns, Autos Aguirre, Hertz, Enterprise, Goldcar, Solmar, King Rent, Hertz Dream Collection, Autos Menorca, Autos Valls, Firefly, Key and Go, Marbesol, La Palma 24, CICAR, Nomadcar, Thrifty, Centauro, Surprice, TopCar, National, Alamo, Delpaso, Avis, Hiper Rent a car, Orlando, Cooltra Scooter, Maggiore, AutoReisen, Rhodium, Class Rent a Car, Autoclick, Wiber, Canarias.com, Budget and Malco Rent a Car in Gijón. You can usually find the largest selection at airports such as Asturias Ranón Santiago del Monte Castrillón Airport. The large companies usually have offices adjacent to the airport.
Van rental & Rent a Car Gijón Customer Feedback & Reviews