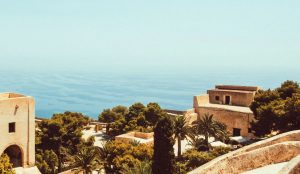 We have an easy and safe online-booking and comparison of rental cars in the city of Malaga. Cheap car hire where all cost are included, no hidden fees and free cancellations/amendments up to 24-48 hours before you are supposed to pick up the car. Search and choose your destination, search for country, city etc. and choose a rental car from the list.
Málaga (Màlaga, Malaga) is a town in the municipality of Malaga, region of Andalusia, Spain. It is the central city in the region. Second largest city/town when it comes to inhabitants in the region and the 6th largest town/district in Spain. It is the largest city on Costa del Sol. Has about 568 300 (2015) inhabitants. Larger surrounding cities/communities are Marbella (c. 134600 pop), Vélez-Málaga (c. 74200 pop) and Mijas (c. 73800 pop). Regardless of how long you are staying the town there are things to experience and do. Located about 22 m above sea level. Small villages, communities and suburbs nearby are Valdés, Alora, Rute, Huétor-Tájar, Archidona, Pedregalejo, El Palo, El Chaparral, Guadalmar and Puerto de la Torre. These metro (subway) stations are located in the city Centro Alameda, El Perchel, Metro Portada Alta, El Torcal, Puerta Blanca, Universidad, Palacio de Deportes and Andalucía Tech. The town has a typical Mediterranean climate, the weather is very mild throughout the year with over 300 days of sun a year. It doesn't rain often and normally it only rains in the spring or autumn.
Compare car rental in Malaga
Rent a car in the city? Cheap rental cars at Málaga's train stations (María Zambrano Railway Station, Aeropuerto, Estación de Cala, Los Alamos, Estación de Campanillas and Estación del Rincón) travel centre and nearby airports like Málaga Airport and Granada Airport and ferry terminals and ports (Marina Real Club Mediterráneo, Hafen Malaga, Malaga Ferry Port). Find the best prices for rental cars online with autospain.co.uk. Comparing prices online can be very profitable, many smaller companies can otherwise only be booked on site in the city. Comparison of rental cars and car hires from several businesses in the town of Málaga, Spain.
Centauro Ave on Calle Mendívil 10 Local 1
Alamo on Estación de Tren
Goldcar on Calle Mendívil 2
Sixt on Calle Mendívil 12
Avis Budget on Renfe Centro Comercial Vialia Local F 1
ACE on Calle Explanada de la Estación 6 Bajo
National on Estación de Tren
Hertz Maria Zambrano on Parking 2 Vialia Shopping Centre Calle Mendívil
Thrifty Rr Stn on C Mendivil Parking 2
Europcar on Explanada de la Estacion
Avis on Renfe Centro Comercial Vialia Dev Parking Menos 2 Calle Mendívil
Enterprise on Calle Marea Baja 11
Hertz on Calle Explanada de la Estación
Budget España on Renfe Centro Comercial Vialia Local F 1
Enterprise on Centro Comercial Vialia Maria Zambrano Local Fo 11
Goldcar on Calle Explanada de la Estación 6
Eucarhire on Paseo de la Farola 25
Are the companies we compare near Málaga to find the best price for you. Find out more about the car hire companies in Malaga here.
What to do and see in the city?
Some suggestions and tips on places, activities, events, attractions, museums, experiences and destinations in the town that are worth a visit during your holiday in Málaga. The town is the birthplace of Picasso and there is a museum in the town, Museo Casa Natal de Picasso. A day for relaxing and sunbathing on the beach at Playa Pedregalejo, Playa Peñon, Playa de la Caleta, Playa Virginia, Playa Las Acacias, Playa de la Malagueta and Playa del Palo. They are all close to the town. Costa del Sol are the coasts nearby. Keen on seeing ancient relics, older buildings, antiquities and cultural heritage? These places, Archaeological site of la Araña, Roman Theater (Teatro Romano) and the Roman villa of Los Molinillos, could be worth a visit. The Roman Theater is next to the Alcazaba and is a beautiful remain of an old Roman theater. You can view some artefacts before entering and you can also walk past the old stage and sit on the old stone steps. Are you planning a wine tour and tasting in Málaga? Some of the vineyards and wine producers that are close to the the town are, for example, Gomara.
Interesting cathedrals or churches that are close by are St George's Church, Church of Santiago, Church of Santo Domingo and Cathedral of la Encarnación de Málaga. Málaga Cathedral is right in the city centre and well worth seeing. Inacua Racket Center are located nearby if you want to watch sports or see a game. Watch the local team play? Or see a concert? Watch football? Close to the town centre are the La Rosaleda Stadium, Stadium Ciudad de Málaga and Palacio deportes Martín Carpena. Recreation and activities? Centro Cultural Provincial and Centro Cultural Pablo Ruiz Picasso are located close to the town centre. Fascinating parks and gardens in the central parts of the city are Botanic garden Malaga, Jardines Picasso, Botanical Garden and Molino del Inca. La Conception Botanical & Historical Garden have beautiful views of the city. Relaxing and beautiful green areas, parks and plantings worth seeing are Park Huelín, Montes de Málaga, La Batería Park and Gardens of Puerta Oscura. Malls like Centro Comercial Málaga Plaza, Centro Comercial Plaza Mayor, Centro Comercial Rincón de la Victoria, Muelle Uno and Centro Comercial Rosaleda are close by if you want to do some shopping.
Club de Golf El Candado 7 km, Añoreta Golf 16 km, Guadalhorce Club de Golf 10 km and Málaga Golf 9 km are golf courses located close to the city. Do you want to play some golf or are planning a golf trip? Famous and interesting palaces, villas and mansions in the city are Town Hall Palace and Episcopal Palace. Castillo de (Castle) Bil Bil, Castle Gibralfaro and Alcazaba are new as well as old beautiful castles to see and they are located in the town centre. Castillo de Gibralfaro is a Moorish castle and sits on a big hill behind the Alcazaba. The castle offers an nice view of the town. Inside the castle there are a gardens and an exhibit. Alcazaba is a Moorish castle built in the 11th century and is the best-preserved of its kind in whole of Spain.
Dinosaurios Park, Aqualand and Tivoli World are water parks, amusement parks or theme parks nearby. If you are craving for activities and experiences with your children. Selwo Marina Delfinarium, Sea Life Benalmádena and Crocodile Park are tropicariums, tropical houses, zoos, aquariums, safari parks and terrariums that are nearby. Visit nice squares and large open spaces in the central parts of town. Plaza De La Merced, Plaza de la Marina, Plaza del Obispo, Plaza del Ejido and Plaza Santa Maria are nearby. If you want to visit a museum you can choose between Museum of Vino-Málaga, Museo Revello de Toro, Museo Carmen Thyssen, Santa Ana, Museum of Málaga, Palace of la Aduana, Aula del Mar. Museo Alborania, Picasso Museum, Museum of Vidrio and Cristal de Málaga and Museo Birthplace of Picasso, which are within a walking distance from the town centre. Museo Carmen Thyssen opened in 2011 and has a very nice collection of 19th and 20th Century Spanish paintings. Interesting historical ruins and places that are worth a visit are Cortijo del Sastre.
Find the best car hire and cheapest car rental in airports nearby
Find the best car hire and cheapest car rental in airports nearby: Cheap Hire Cars Málaga-Costa del Sol Airport and Car Hire Granada-Jaén Airport. Compare the number of days you want, whether that be a week, weekend, rent for a day, a year, a whole month or a long-term rental in Málaga.
Car rental companies in Málaga, Spain
King Rent, Dickmanns, Autoclick, Autos Aguirre, Cooltra Scooter, Thrifty, Niza, Malco Rent a Car, Surprice, Avis, Delpaso, Enterprise, Goldcar, Orcar Canarias, Hertz, La Palma 24, Keddy By Europcar, Maggiore, Wiber, AutoReisen, Atesa, Orlando, Class Rent a Car, OK Rent a Car, Marbesol, Europcar, Dollar, Drivalia, ClickRent, Record, Sixt, Faycan, Firefly, Hertz Dream Collection, TopCar, Canarias.com, Solmar, InterRent, Budget, Hiper Rent a car, Key and Go, CICAR, Owners Cars, Autos Valls, Flizzr, National, Centauro, Alamo, Nomadcar, Rhodium and Autos Menorca are the companies we compare near Málaga to find the best price. You can usually find the largest selection at airports such as Málaga-Costa del Sol Pablo Picasso Airport and Federico García Lorca Granada-Jaén Airport. The large companies usually have offices adjacent to the airport.
Van rental & Rent a Car Málaga Customer Feedback & Reviews