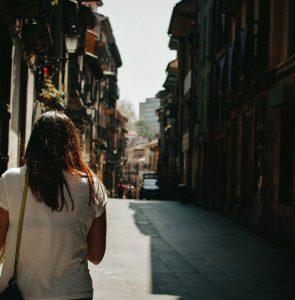 We compare large companies as well as small and find the best price for all types of cars. Compare rental cars and renting of a vehicle from several companies in the city, Oviedo in Spain.
Car hire at Oviedo's airports like Asturias Airport and León Airport, OVD, train stations (Oviedo-Llamaquique, Oviedo Railway Station, El Caleyo, Las Segadas, Estación de Lugo de Llanera and La Pereda-Riosa) and travel centres etc. We can offer a car hire service where every cost is included. There are no hidden fees or free cancellations/amendments up to 24 hours before you are supposed to pick up the car. An easy, straight forward and safe search for car hire online. With our search engine, you only need to write the name of the city, place etc. and you will immediately get a list of choices. When you are looking for rental cars we compare these companies Budget España on Estación de Autobuses Alsa Calle de Pepe Cosmen Sn Local 4, Sixt on Calle Uria 41, Avis Estación de Autobuses on Calle de Pepe Cosmen 0, Alamo on Peugeot Lozauto Cerdeño 35, National Cerrado on Peugeot Lozauto Cerdeño 35, Avis on Estacion Autobuses Alsa Avda Calle de Pepe Cosmen Sn Local 4, Enterprise on Concesionario Peugeot Lozauto Calle Cerdeña 35, Go Rentacar Y Furgonetas on Estación Central Renfe Local 2, Global Rental Asturias Scooters Bicicletas Furgonetas Y Maquinaria on Calle Fray Ceferino 51, Hertz on Calle Ventura Rodríguez 4, Thrifty on Calle Ventura Rodríguez 4, Europcar on Avd Santander S N Plaza Estacion de Renfe.
Oviedo is a city in the municipality, Asturias, Principality of Asturias region, Spain. It is the county seat in the region. 2th largest city/town when it comes to inhabitants in the region and the 27th largest district/town in Spain. Small villages, communities and suburbs nearby are Villaviciosa, Cangas del Narcea, Pola de Laviana, Lugones, Llanera, Ruayer, Arcos, Manjoya, Los Prietos and Fitoria. Has about 224 000 (2015) inhabitants. Gijón (c. 277600 pop), Avilés (c. 84200 pop), Langreo (c. 45600 pop) and Mieres (c. 44100 pop) are other larger communities, cities nearby. Whether you are visiting the city Oviedo just for one day or for a longer period, there is plenty to do. Read more further down. The community/city is located about 237 MASL. Bus stop? These stations and stops are located in the city, Bus Station. Learn more about which companies are located in the country.
Visiting and sight-seeing in Oviedo? Some suggestions and tips on, activities, places, events, attractions, destinations, experiences and museums in the city that are worth a visit during your stay. To experience and watch exciting history and archaeology, visit these nearby places, La Foncalada. Are you planning a wine tour and tasting in Spain? Vineyard and wine producers that are close by are Vinos Santamarta. Hermanos Antuña and Stadium Carlos Tartiere are located nearby if you want to watch sports or go to a concert.
Tropical houses, tropicariums, zoos, safari parks, aquariums, and terrariums in the surrounding area of the city are Núcleo Zoológico El Bosque. Want to look at some exotic animals? Club de Golf La Fresneda 8 km, Club de Golf La Barganiza 12 km, Club de Golf La Morgal 8 km and Campo Municipal Las Caldas 7 km are golf courses located close to the community. Do you want to play some golf or are planning a golf trip? Palace of Báscones are magnificent and interesting buildings, villas and palaces close to the centre of Oviedo. Look at famous statues and monuments of famous people and events like Santa María del Naranco, Woody Allen statue, Statue of Mafalda and Ayuntamiento. Beautiful vast open spaces or squares close by are Plaza de España, Plaza Trascorrales and Plaza de la Escandalera.
Los Prados, Centro Comercial Modoo and intu Asturias are malls in the city if you want to do some shopping. Campillín Garden and Rodriga Garden are located within a walking distance if you want to enjoy and experience a botanical garden. Parks, green areas and plantings worth visiting for recreation and relaxing are Park Invierno and Campo de San Francisco. Archivo Histórico de Asturias, Museum of Bellas Artes de Asturias, Ethnographic Museum of la Lecheria, Archaeological Museum of Asturias and Centro de Recepción e Interpretación del Prerrománico Asturiano are located nearby. Maybe a day at the museums and art galleries of the town? Notable churches or cathedrals are Cámara Santa, Torre Convent of Clausura de las Pelayas, Centro Parroquial de Fuejo, San Julián de los Prados and Cathedral of San Salvador which are close by. Plaza de Toros, visit and experience culture at an amphitheatre close to the town centre. Music, plays and shows in the town centre? We recommend Filarmónica and Theater Campoamor. Located within walking distance.
Car hire in airports nearby
Car hire in airports nearby: Asturias Airport and León Airport.
Car rental companies in Oviedo, Spain
Sixt, Faycan, Thrifty, Autoclick, Niza, Owners Cars, Atesa, Flizzr, Maggiore, Drivalia, Dollar, Europcar, InterRent, Autos Aguirre, Keddy By Europcar, Dickmanns, Cooltra Scooter, Hertz, Enterprise, Goldcar, Delpaso, National, ClickRent, AutoReisen, Orcar Canarias, Firefly, Solmar, CICAR, Autos Menorca, Nomadcar, Marbesol, Centauro, Rhodium, Canarias.com, Orlando, Alamo, TopCar, Avis, Hiper Rent a car, Record, Autos Valls, OK Rent a Car, Malco Rent a Car, Class Rent a Car, La Palma 24, Surprice, Wiber, King Rent, Budget and Hertz Dream Collection are the companies we compare near Oviedo to find the best price. You can usually find the largest selection at airports such as Asturias Ranón Santiago del Monte Castrillón Airport and León Virgen del Camino Airport. The large companies usually have offices adjacent to the airport.
Car Hire & Rent a Car Oviedo Customer Reviews & Feedback