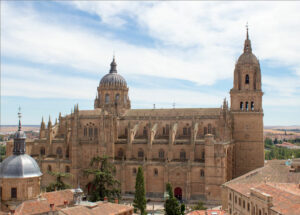 We compare large companies as well as small and find the best price for all types of cars. Compare rental cars and renting of a vehicle from several companies in the town, Salamanca in Spain.
Easy and safe online booking for rental cars. Search for a city, airport etc. and choose a pick up location. The search will look for all types of models. Rental cars are available at Salamanca's travel centre, train stations (Salamanca Railway Station) and airports like Salamanca Airport, SLM. Car hire where every cost is included, no hidden fees and free cancellations/amendments up to 24 hours before you pick up the car. When you are looking for rental cars we compare these companies Europcar on In Front of Paseo de la Estación 133 135, Enterprise on C C Vialia Estacion Paseo de la Estación, Hertz on Paseo de la Estación, Avis on Paseo de Canalejas 49, Alamo Enterprise National on C C Vialia Estacion Paseo de la Estación, Thrifty Hertz on Paseo de la Estación.
Salamanca (Salamanka) is located in the municipality Salamanca, Castille and León region, Spain and is a town. It is the central city in the area. It is the 3th largest town/city when it comes to inhabitants in the region and the 53th largest city/district in Spain. The city is located about 815 meters above sea level. With a population of around 155 600 people in 2015. Smaller villages, communities and suburbs nearby are Santa Marta de Tormes, Peñaranda de Bracamonte, Guijuelo, Alba de Tormes, Villamayor, Villares de la Reina, Carbajosa de la Sagrada, Tejares, El Marín, La Granja and Vistahermosa. Regardless of how long you are staying the town there are things to experience and do. Larger surrounding cities/communities are Santa Marta de Tormes (c. 14600 pop), Peñaranda de Bracamonte (c. 6300 pop) and Guijuelo (c. 5200 pop). Bus stations and bus stops in the city are Salamanca Bus Station. We also give tips on which companies offer rental cars in Salamanca.
A few suggestions on events, attractions, museums, activities, experiences, places and destinations in Salamanca which are worth a visit during your holiday in the town. You can visit the amphitheatres and/or arenas in town at Plaza de Toros (Bullring) la Glorieta. Music, plays and shows in the town centre? We recommend Theater Juan del Enzina and Auditorium of Municipal San Blas. Located within walking distance. Watch the local team play? Or see a concert? Watch football? Close to the town centre are the Stadium Helmántico. Like golf? Want to try out the local golf courses? Golf courses that are close to the city are e.g. La Valmuza Golf Resort 10 km and Golf Villamayor 4 km.
Palace of la Salina, Casa de las Conchas and Palace of Monterrey are magnificent and interesting buildings, villas and palaces close to the centre of Salamanca. Museums and art galleries in Salamanca that could be interesting are International Museum of Estudiante, Casa Lis, Museum of History of La Automoción, Casa Museo Unamuno, Convent of las Úrsulas and Claustros menores: Cielo de Salamanca. Shopping at a mall? Maybe at Centro Comercial Los Cipreses! Interesting cathedrals or churches that are close by are Parish Church of La Purísima Concepción, La Clerecía, Church of San Marcos, Salamanca Cathedral and Cathedral of Salamanca.
Look at famous statues and monuments of famous people and events like Colegio Arzobispo Fonseca. Visit nice squares and large open spaces in the central parts of town. Plaza Mayor, Plaza de los Bandos, Plaza Bodegas, Plaza de Gabriel y Galan and Plaza Trasera Iglesia are nearby. Garden of los Gozos y las Sombras, Plaza de Anaya and Campo San Francisco are located within a walking distance if you want to enjoy and experience a botanical garden. Jesuitas Park, Aldehuela Park, Park la Alamedilla and Park Würzburg are relaxing green areas, park and plantings if you want to relax and have a picnic on the grass.
Find the best car hire and cheapest car rental in airports nearby
Find the best car hire and cheapest car rental in airports nearby: Car Hire Valladolid Airport and Cheap Hire Cars Salamanca Airport.
Car rental companies in Salamanca, Spain
To find the best price we compare following companies Thrifty, Autos Menorca, Hertz, Key and Go, Drivalia, Canarias.com, CICAR, Avis, Delpaso, Budget, Keddy By Europcar, Marbesol, Owners Cars, Solmar, Surprice, King Rent, Flizzr, ClickRent, Wiber, Autos Valls, National, Alamo, Rhodium, Sixt, Autoclick, Malco Rent a Car, Dickmanns, Autos Aguirre, InterRent, Centauro, Class Rent a Car, TopCar, Maggiore, Orcar Canarias, AutoReisen, Record, Faycan, Nomadcar, La Palma 24, Cooltra Scooter, Hiper Rent a car, Firefly, Orlando, Europcar, Niza, Enterprise, Goldcar, Atesa, Dollar, Hertz Dream Collection and OK Rent a Car in Salamanca. You can usually find the largest selection at airports such as Salamanca Matacán Airport. The large companies usually have offices adjacent to the airport.
Van rental & Rent a Car Salamanca Customer Feedback & Reviews