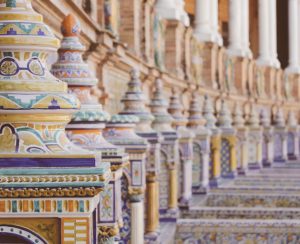 We compare large companies as well as small and find the best price for all types of cars. Compare rental cars and renting of a vehicle from several companies in the city, Seville in Spain.
We have an easy and safe online booking of rental cars. Car hire where every cost is included, no hidden fees and free cancellations/amendments up to 24 hours before you are supposed to pick up the car. Search and choose destination, search for country, city etc. and choose from the list. Rental cars at Seville's train stations (Sevilla-San Bernardo, Sevilla Santa Justa Railway Station, Sevilla-Virgen del Rocio, Padre Pio-Palmete, Estación de San Jerónimo, Palacio de Congresos and Estadio Olímpico) travel centre and airports like Seville Airport, Morón Air Base and Jerez Airport, SVQ and ports/ferry terminals like Sevilla. Avis on Renfe Estacion Santa Justa Avenida de Kansas City, Avis on Calle 0, Hertz Santa Justa on Parking Area Avenida de Kansas City, Goldcar Spain on A 4 Km 0531, Goldenrent on Calle Nalón, Budget on De Renfe Estación Ave Sta Justa Avenida de Kansas City, Thrifty on Rail Station Santa Justa Avenida de Kansas City, Centauro on Avenida de Kansas City 7, Alamo on Estación de Tren Avenida Kansas City, Auriga Crown on Avda Kansas City 32 Local Bajo 2 Edificio el Mirador, Thrifty Dt on Rail Station Santa Justa, Enterprise Estacion de Tren Santa Justa on Ave S Justa Parking Lateral Avenida de Kansas City, Goldcar on Parking Kansas City Avenida de Kansas City, Sixt Santa Justa on Avenida de Kansas City, National on Estación de Tren Avenida de Kansas City, Enterprise on Calle Tipografía 3 Polígono Industrial la Negrilla, Europcar on Avenida de Kansas City, ACE on Train Station Ave de Kansas City, Eucarhire are the companies we compare near Seville to find the best price.
Seville (Hispalis, Siviglia, Sevilla) is a city in the municipality Seville, Andalusia region, Spain. It is the county seat in the region. 1th largest city/town when it comes to inhabitants in the region and the 4th largest town/district in Spain. Larger surrounding cities/communities are Dos Hermanas (c. 122900 pop), Alcalá de Guadaira (c. 70200 pop) and Utrera (c. 50700 pop). La Algaba, Bollullos par del Condado, Pilas, Gines, Sanlúcar la Mayor, San Lázaro, Las Playas, Pino Montano and San Jerónimo are smaller suburbs, villages and communities nearby. The community/city is located about 16 MASL. Are you planning to stay for a long period and spend your holiday here? Then there are many things to do and experience. About 703 200 (2015) inhabitants live in the city. These metro (subway) stations are located in the city Nervión, Gran Plaza, San Bernardo and Cavaleri. Bus stop? These stations and stops are located in the city, Sevilla Bus Station and Aeropuerto de Sevilla. Find out more about the car hire companies in Seville.
Recommendations and tips on activities, experiences, museums, attractions, events, places and destinations in Seville you can visit during your stay in the city can be found here. Are you going on a golf trip and looking for golf courses? The golf courses, Real Club Pineda de Sevilla 4 km, Real Club de Golf de Sevilla 6 km and Club de Golf Zaudin 8 km, are located close to the city. Archivo Histórico Provincial de Sevilla, Municipal Museum Fernando Marmolejo, Museum of Bellas Artes, Museo Taurino, Centro Cerámica Triana, Museum of Arte y Costumbres Populares, Centro Andaluz de Arte Contemporaneo, Surcreativa, Museum of los Carruajes, Museo Casa de Murillo and Fundación Valentín de Madariaga y Oya are located close to the town centre. A day at the museums and art galleries of Seville? Aquopolis Sevilla and Isla Magica are theme parks, water parks or amusement parks nearby. If you are looking for experiences and activities for the family. Want to spend a day watching animals? Zoos, aquariums, tropicariums, terrariums, tropical houses and safari parks that are nearby are Zoo de Sevilla, Acuario Sevilla and Mundo Park.
Enjoy a beautiful botanical garden? Guadalquivir Garden, Cristina Garden, Botanical Garden el Arboreto and Soul Garden are located within walking distance. Prado de San Sebastián, Park Amate, Gardens of las Delicias, Patio de los Naranjos and Gardens of Murillo are located in the city if you want to experience beautiful and interesting parks and gardens. Are you planning a wine tour and tasting in Spain? Wineries and wine producers that are close to Seville are, for example, La Antigua Vinos. Monument to la Intolerancia, Royal Artillery Factory of Seville, Columbus Monument, Monument Sagrado Corazón de Jesús and Tower of la Plata are exciting statues and monuments of famous people and events. Visit nice squares and large open spaces in the central parts of town. Plaza de la Encarnacion, Plaza de America, Plaza del Salvador, Barrio de Santa Cruz and Puerta de Jerez are nearby. Markets such as Market Plaza de Abastos and Flea market Bormujos are located nearby.
Watching sports or exercising? Athletic fields close to the city are Club de Campo Sevilla. To watch and experience football, sports and concerts etc. you can visit Stadium La Cartuja, Benito Villamarín Stadium, Municipal Stadium of Isidro Reguera and Ramon Sanchez-Pizjuan Stadium. Cultural centres such as Centro Cultural de la Villa and Centro Cultural y Recreativo Piscina la Prusiana are located close to the town centre. La Giralda and Santa Cruz are fascinating historical sites and attractions with archaeological value close to Seville. Amphitheater of Italica and Teatro Romano Santiponce have fascinating antiquities, older buildings, ancient relics and cultural heritage near the city. Archbishop's Palace, Palace of Altamira, Palace of las Dueñas, Palace of San Telmo, Palace of la Condesa de Lebrija, Alcázar of Seville, Hacienda de Torrijos and Hacienda Tilly are magnificent and interesting buildings, villas and palaces close to the centre of Seville. In the town centre there are new as well as old interesting castles to look at, such as Castillo de (Castle) Alcalá de Guadaíra. Want to visit a local casino? These are located in the city at Casino Admiral Sevilla. Do you want to gamble on horses? For instance horse racing or harness racing.Or do you want to watch motor sports? These Hipódromo de Pineda and Dos Hermanas Racecourse are located within a walking distance.
Experience local culture at an amphitheatre, Plaza de Toros (Bullring) and Plaza de toros de (Bullring) la Real Maestranza de Caballería de Sevilla, they are located close to the town centre. To see and experience music, shows and plays at Theater Lope de Vega, Theater Villa de Mairena, Colectivo de Theater Vistazul, Tablao Flamenco Los Gallos, Theater Romero San Juan, Theater Central, Theater Auditorium of Riberas del Guadaira, Auditorium of Tomares, Theater la Maestranza, Auditorium of Rocio Jurado and Cultural Center of la Villa de la Rinconada. Ruins Itálica are interesting ruins of old buildings and objects. Notable churches or cathedrals are Cathedral of Sevilla, Church of San Ildefonso, Church of San Bartolome, Church of Santa Maria la Blanca and Church of Santa Cruz which are close by. Want to spend a day shopping? Metromar, Centro Comercial AireSur, Los Alcores Shopping Center, Centro Comercial Zona Este, Alavera San Juan Parque Comercial and Centro Comercial MegaOcio are located within walking distance.
Car hire in airports nearby
Car hire in airports nearby: Rent a Car Seville-San Pablo Airport, Jerez Airport and Morón Airport.
Car rental companies in Seville, Spain
When you are looking for rental cars we compare these companies National, Dickmanns, Surprice, Cooltra Scooter, Autos Valls, Marbesol, Autos Aguirre, Hertz Dream Collection, Rhodium, Avis, TopCar, Enterprise, Goldcar, Autoclick, Hertz, CICAR, Keddy By Europcar, OK Rent a Car, Wiber, Malco Rent a Car, Atesa, Record, La Palma 24, Owners Cars, Solmar, Europcar, Dollar, Drivalia, Maggiore, Thrifty, Flizzr, Faycan, Firefly, ClickRent, Canarias.com, King rent, Delpaso, InterRent, Budget, Hiper Rent a car, Autos Menorca, Sixt, Orcar Canarias, Niza, Orlando, Centauro, Alamo, Nomadcar, Class Rent a Car and AutoReisen. You can usually find the largest selection at airports such as Seville-San Pablo Airport, La Parra Jerez de la Frontera Airport and Morón Airport. The large companies usually have offices adjacent to the airport.
Car Hire & Rent a Car Seville Customer Reviews & Feedback