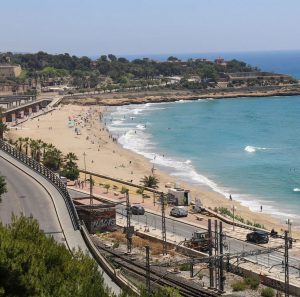 Rent a car where every cost is included, no hidden fees and free cancellations/amendments up to 24 hours before you are supposed to pick up the car. Easy and safe online booking of rental cars. Search for rental cars that you pick up directly at Reus Tarragona Airport. Our search box looks for all pick up locations nearby.
Autospain.co.uk lists prices from companies that are safe and quality assured so that there will not be any problems when you want to pick up your car. Airport code is IATA: REU and ICAO: LERS. Large and safe or small and cheap? It pays off to compare before you book. Here you can compare rental cars and vehicle rent from several companies at Reus Airport in Reus, Spain. Closest communities are La Canonja 3 km, Constantí 4 km, Vila-seca 4 km, Reus 5 km and Tarragona 8 km. Intermediate, cargo van, 7 seat minivan, minivan, moped, estate, compact, suv, jeep, premium, fullsize, 9 seat minivan, minibus, convertible, standard, economy, mini, luxury, 5 seat minivan and automatic transmission cars are car types and models that autospain.co.uk can compare prices on. Compare car rentals for a week, one month, one day, as many days as you wish, long-term, weekend or a year. We at autospain.co.uk compare these companies in Spain, Firefly on Autovía Tarragona S N Tarragona, Interrent Tarragona on Carretera de Tarragona Km 521, Goldcar on Autovía del Mediterráneo, Firefly, Sixt on Aeropuerto A 27, Europcar on Only With Flight Office Located Airport Road N N Meeting Point P2, Hertz on Carrer Viriat Carrer Josep Maria Folch I Torres 7c Tarragona, Europcar on Carretera Aeropuerto. It is possible to rent a car for one way, this is called a one way rental. You collect the car in one place and return it somewhere else, e.g. another city or country.
About Reus Airport (Reus Tarragona Airport) facts, information and data. The airport is in the municipality of Tarragona, in the Catalonia region, in Spain. Big cities nearby are Barcelona 87 km (c. 1621500 pop), Eixample 87 km (c. 266500 pop), L'Hospitalet de Llobregat 81 km (c. 257000 pop), Sant Martí 91 km (c. 235700 pop), Badalona 96 km (c. 219500 pop) and Terrassa 85 km (c. 210900 pop). Alternative names for the airport are Aeropuerto de Reus, Reus Tarragona Airport, Reus Airport, International. Other airports nearby are Barcelona–El Prat Airport, Lleida-Alguaire Airport and Sabadell Airport. The airport is located about 234 feet/71 meters AMSL. You will find accurate information about where to pick up and/or return your car on your order/voucher. All rental car companies have their own offices where you pick up keys etc. If you are planning or will be flying to, or from and use Reus Tarragona Airport, you will find information about the airport, maps, contact information and the weather here. Closest train stations are Vila-seca, Reus Railway Station and Port Aventura station. If you plan to continue travelling, or arrive by train, all are within 4 km. Do you need to stay overnight after your arrival? Then the following hotels, Hotel Estival Park Duplex, Aquum, Domus Selecta Mas Passamaner, Mas La Boella and Hotel Reus Park, are nearby.
Car rental companies at Reus Tarragona Airport (REU), Spain
Malco Rent a Car, Keddy By Europcar, OK Rent a Car, Maggiore, Cooltra Scooter, Sixt, InterRent, Nomadcar, AutoReisen, Firefly, Autos Menorca, Canarias.com, Enterprise, Wiber, Owners Cars, Avis, Flizzr, Delpaso, Goldcar, Autoclick, Budget, Niza, Rhodium, National, Dickmanns, Orcar Canarias, Autos Aguirre, Solmar, Drivalia, Alamo, Surprice, TopCar, Autos Valls, Hertz Dream Collection, La Palma 24, Europcar, Orlando, Hertz, Record, King Rent, Centauro, ClickRent, Faycan, Marbesol, Class Rent a Car, Hiper Rent a car, Key and Go, Atesa, Thrifty, Dollar and CICAR are the companies we compare at the airport to find the best price.
Van rental & Rent a Car Reus Tarragona Airport Customer Feedback & Reviews