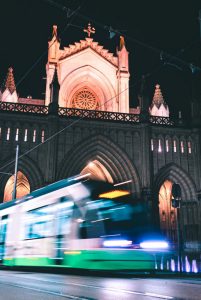 Search for rental cars that you pick up directly at Vitoria-Gasteiz Foronda Airport. Our search box looks for all pick up locations nearby. Rent a car where every cost is included, no hidden fees and free cancellations/amendments up to 24 hours before you are supposed to pick up the car. Easy and safe online booking of rental cars.
Large and safe or small and cheap? It pays off to compare before you book. Here you can compare rental cars and vehicle rent from several companies at Vitoria Airport in Vitoria-Gasteiz, Spain. Closest communities are Vitoria-Gasteiz 6 km, Aretxabaleta 25 km, Mondragón 28 km, Miranda de Ebro 28 km and Amurrio 29 km. Autospain.co.uk lists prices from companies that are safe and quality assured so that there will be no problems when you want to pick your car up. Airport code is IATA: VIT and ICAO: LEVT. We at autospain.co.uk compare these companies in Spain, Avis on Tarragona Kalea 8, Budget España on Tarragona Kalea 8, Europcar on Adriano Vi Kalea N 29. Compare the number of days you want, whether that be a week, weekend, rent for a day, a year, a whole month or a long-term rental. Collect the car in one place and return it somewhere else, e.g. another city or country. It is possible to rent a car for one way, called the one way rental. Economy, premium, 5 seat minivan, cargo van, intermediate, luxury, convertible, compact, estate, suv, jeep, 7 seat minivan, mini, standard, minivan, moped, 9 seat minivan, minibus, fullsize and automatic transmission cars are car types and models that autospain.co.uk can compare prices on.
Data, facts and information about Vitoria Airport (Vitoria-Gasteiz Foronda Airport). The airport is in the municipality of Araba / Álava, in the Basque Country region, in Spain. Bilbao Airport, Logroño-Agoncillo Airport and Pamplona Airport are nearby airports. Closest big cities and communities are Bilbao 45 km (c. 354900 pop), Vitoria-Gasteiz 6 km (c. 235700 pop), Pamplona 88 km (c. 198500 pop), San Sebastian 77 km (c. 185400 pop), Logroño 51 km (c. 152100 pop) and Barakaldo 51 km (c. 98500 pop). Aeropuerto de Vitoria, Vitoria-Gasteiz Airport, Aeropuerto de Vitoria-Gasteiz, Vitoria-Gasteiz Foronda Airport, Vitoria Airport, Aeropuerto de Foronda, Gasteizko aireportua, International are other names for this airport. The airport is located about 1682 feet/513 meters above sea level. If you are planning or will be flying to/from, and use Vitoria-Gasteiz Foronda Airport, you will find information about the airport, maps, contact information and the weather here. You will find accurate information about where to pick up and/or return your car on your order/voucher. All rental car companies have their own offices where you pick up keys etc. Are you arriving to the airport by train? Closest train stations are Vitoria-Gasteiz Railway Station. Need a place to sleep? Ac Hotel General Álava, El Coto, Apartamentos Turisticos Irenaz and Gran Hotel Lakua are examples of hotels and youth hostels close to the airport. They are all within 3 km.
Parque Comercial Gorbeia are nearby the airport if you want to shop or are looking for tax-free goods. They are within 3 km. Buses? These stations and stops for buses are located at the airport Vitoria-Gasteiz Bus Station.
Frequently asked questions about renting a car at Vitoria Airport
Which car hire companies are near Vitoria Airport?
There are over 3 car hire companies at Vitoria Airport. Car rental companies such as Avis on Tarragona Kalea 8, Europcar on Adriano Vi Kalea N 29, Budget España on Tarragona Kalea 8, etc.
Do I need a credit card to hire a car at Vitoria Airport?
You can make a booking without a credit card with autospain.co.uk. Note that, even if you choose to pay by debit card, you will have to provide a valid credit card in the driver's name at the time of pick-up at Vitoria Airport, since the rental agent requires a credit card from which to take the rental deposit. Credit cards accepted for pick-up are MasterCard, Visa, and in some cases American Express.
How much does it cost to hire a car at Vitoria Airport?
Renting a small car at Vitoria Airport costs from about € 15 per day, depending on the season and supply. Sometimes you can find cheaper cars to hire depending on the season. A normal-sized car costs from about € 34 / day. The price is based on a weekly all inclusive hire for 7 days. In the majority of cases the hire price includes tax, third party liability protection, airport fee, collision damage waiver, unlimited mileage and breakdown assistance. Please note that the costs included may vary depending on the hire cars agent and destination country. The car hire agent may also choose to ask you for a deposit or excess at the hire desk. Make sure to check the hire conditions at the time of booking.
Car rental companies at Vitoria-Gasteiz Foronda Airport (VIT), Spain
Nomadcar, InterRent, Sixt, CICAR, Malco Rent a Car, Class Rent a Car, Alamo, Hiper Rent a car, Hertz, Europcar, Cooltra Scooter, Drivalia, Autos Menorca, ClickRent, Firefly, Marbesol, Faycan, King Rent, Delpaso, Orlando, Orcar Canarias, Wiber, Budget, Flizzr, Surprice, TopCar, Solmar, Autos Valls, Atesa, Maggiore, Enterprise, Centauro, Dollar, Thrifty, Niza, Avis, Goldcar, Autos Aguirre, La Palma 24, Keddy By Europcar, AutoReisen, Rhodium, OK Rent a Car, Owners Cars, Autoclick, Dickmanns, Canarias.com, Key and Go, Hertz Dream Collection, Record and National are the companies we compare at/in the airport/country.
Van rental & Rent a Car Vitoria-Gasteiz Foronda Airport Customer Feedback & Reviews