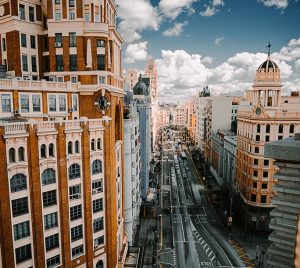 Comparison of rental car and car hire from several businesses in the city Madrid, Spain. Find the best prices for rental cars online. Comparing prices online can be very profitable, many smaller companies can only be booked on site.
Rental cars are available at Madrid's travel centre, train stations (Railway station de Tribunal, Estación de Recoletos, Príncipe Pío, Madrid Atocha Railway Station, Estación de Chamberí, Estación Imperial and Estación Delicias) and airports like Adolfo Suárez Madrid–Barajas Airport and Madrid–Torrejón Airport, MAD. A car hire service where every cost is included, no hidden fees and free cancellations/amendments up to 24 hours before you pick up the car. Easy and safe online booking of rental cars. Search for a city, airport etc. and choose a pick up place. Alamo on Planta 1 Plaza de Isabel Ii, Enterprise on Estacion Puerta de Atocha Ave Av Carlos V, Budget España on Atocha Ronda de Atocha, Enterprise on Aparcamiento Plaza de España Primera Planta, Hertz Princesa on Calle de la Princesa 14, Connect By Hertz Consorcio on Pl 1 Plaza Plaza del Descubridor Diego de Ordás 3, Avis on Devolución Parking Saba Calle Gran Vía Plaza Mostenses 46, Connect By Hertz on Paseo de la Castellana 22, National on Planta 1 Plaza de Isabel Ii, Sixt on Ronda de Atocha 10, Enterprise on Citroen Calle del Doctor Esquerdo 62, Hertz on 10 Calle de Tomás Bretón 8, Europcar Plaza de España on Calle San Leonardo 8, Avis on Plaza del Emperador Carlos V are the companies we compare near Madrid to find the best price.
About the city Madrid (Magerit, Madril, La Villa y Corte de Madrid, Los Madriles), located in the Madrid part, Madrid region, Spain. The city is the capital of the country. 1th largest town/city when it comes to inhabitants in the region and the 1th largest town/district in Spain. Whether you are visiting the city Madrid just for one day or for a longer period, there is plenty to do. Read more further down. Larger surrounding cities/communities are Latina (c. 256600 pop), Carabanchel (c. 253700 pop) and Puente de Vallecas (c. 244200 pop). El Escorial, Guadarrama, Paracuellos de Jarama, Las Matas, Arroyomolinos, Alpedrete, Meco, Ciudad Lineal, Chamartin, Colonia Los Angeles and Arroyo Meaques are smaller suburbs, villages and communities nearby. The community and town is about 665 meters above sea level. About 3 255 900 (2015) inhabitants live in the city. Nearby bus stops and bus stations are Concha Espina, Parque Empresarial La Finca, Aeropuerto Madrid-Barajas T4 and Aeropuerto T2. Banco de España, Recoletos, Real Fabrica de Tapices, ABC Serano, Alonso Cano, Rios Rosas and Cochereas de Metro de Las Ventas are subway (metro) stations in the city. Centrally located are car rental companies like Alamo on Estación de Tren Atocha, Thrifty on Calle de la Princesa 14, Sixt on Ronda de Atocha 5, Europcar on Puerta Atocha Llegadas Ave Avenida de la Ciudad de, Goldcar on Calle de Tortosa 10, Sixt Plaza de España on Calle de la Princesa 1, Thrifty, Hertz Atocha Ave on Plaza del Emperador Carlos V, Hertz on Calle Ancora 23, Rhodium Gold on Calle de Tortosa 10, National on Estación de Tren, Thrifty on Glorieta de Atocha etc. Find out more about the car hire companies in Madrid.
Tips and recommendations in Madrid on activities, museums, experiences, attractions, places, events and destinations you can visit during your trip. Older and fascinating buildings such as villas, manors and palaces close to the town centre are Palace of Gaviria, Royal Palace of El Pardo, Palace of Federico Ortiz, Palace of La Zarzuela, Palace of la Moncloa, Casa de La Panadería, Palace of Santa Cruz, Palace of Velázquez and Royal Palace of Madrid. Want to look at the domiciles of the city's old rulers? Exciting castles such as, Castillo de (Castle) la Alameda are located close to Madrid. Close to the town centre there are athletic fields and sports fields such as Complejo deportivo de hockey Somontes, Club de Pádel y Tenis Fuencarral, Centro Deportivo Municipal Tenis Casa de Campo, Real Club Deportivo Carabanchel, Ciudad de la Raqueta, Madrid, Centro Deportivo Municipal Vicente del Bosque, Estadio Carlos Ruiz, Ciudad Deportiva del Real Madrid and Centro Deportivo Militar La Dehesa. Want to watch a game or sports, maybe go to a concert? Close to the city are Plaza de Toros de (Bullring) Las Ventas, Municipal Stadium of Butarque, Peineta Stadium, Vicente Calderón Stadium, Bernabeu Stadium, Stadium Bernabeu, Madrid Arena, Stadium Román Valero and Stadium Vallecas. Maybe see a local game of football? Matadero Madrid, Centro Cultural Margarita Nelken, Centro Cultural Huerta de la Salud, Blanquerna Centre Cultural, Centro Cultural El Madroño, Centro Cultural Quinta del Berro and Centro Cultural Meseta de Orcasitas are cultural centres for recreation and activities located close to the town centre. Markets such as Market San Miguel are located nearby.
Arco de la Victoria are old arches and arcs that are worth a visit. Teatro Real are close to the town centre if you would like to experience and listen to opera and music. You can visit the amphitheatres and/or arenas in town at La Cubierta de Leganés, Plaza de Toros (Bullring) Vista Alegre, Plaza de Toros (Bullring) Vista Alegra, Auditorio Pilar Garcia Peña and Plaza de Toros de (Bullring) Getafe. Why not visit Theater Barrio, Theater Príncipe Gran Vía, Theater Real, Theater of María Guerrero, La Puerta Estrecha, Theater Muñoz Seca, Theater Espanol, Royal Cinema Theater and Theater la Zarzuela to experience and see music, plays and shows nearby Madrid. Fountain of Cibeles, Monument to Fallen Heroes, Gate of Toledo, Statue of the Bear and Strawberry Tree and Casa de Cisneros are monuments and statues of fascinating historical events and individuals. Notable squares or large open spaces that are close by, Plaza Mayor of Madrid, Puerta del Sol, Plaza Santa Ana, Plaza de Callao and Plaza del Carmen. Notable churches or cathedrals are Real Colegiata de San Isidro, Cathedral of San Isidro, Parish Church of San Sebastián, Oratorio del Caballero de Gracia and Basilica de (Basilica) San Miguel which are close by.
Real Academia de Bellas Artes de San Fernando, El Casón del Buen Retiro, Museo Municipal, Museum of Prado, Golden Triangle of Art, Museo ICO, National Museum of Artes Decorativas, Fundacion Telefonica and Royal Armoury of Madrid are located close to the town centre. A day at the museums and art galleries of Madrid? Cinco Gremios Mayores, Tower of los Lujanes and Tomb of Largo Caballero are fascinating historical sites and attractions with archaeological value close to Madrid. Gardens of Sabatini, Bosque del Recuerdo, Garden of Príncipe de Anglona, Real Botanical Garden of Madrid and Violeta Friedman Garden are located in the city if you want to experience parks and gardens recommended by us. Do you want to see the views? Viewpoint Cerro Almodóvar, Faro de Moncloa, Viewpoint of Ensanche, The Roof and Viewpoint of Iria are observation points in the central parts of town. Park Atenas, Campo del Moro, Botanical Garden, Real Botanical Garden and Sabatini Gardens are relaxing green areas, park and plantings if you want to relax and have a picnic on the grass. Casino Gran Madrid, Casino Gran Vía and Casino de Madrid are located in the town, try gambling for money at a casino, or try your luck on Black Jack or Roulette. Watch horse racing and harness racing etc. at motor stadiums and race tracks such as La Zarzuela Racecourse.
Do you need a car for a golf trip? Golf courses close to the community are Real Club Puerta de Hierro 6 km, Club de Golf Olivar de La Hinojosa 10 km, Centro de Tecnificación de Golf 7 km, Centro Deportivo Barberan 10 km and Centro Nacional de La RFEG 9 km. Shopping at a mall? Maybe at Plaza Marques de Salamanca, Centro Comercial Las Rosas, Centro Comercial Gran Vía de Hortaleza, Centro Comercial Puerta Bonita, Plaza de Aluche, Mercado de Fuencarral, Arturo Soria Plaza, Dreams Palacio de Hielo and Centro comercial Vicalvaro! Diversión en la Granja, Aquópolis San Fernando de Henares, Warner Bros Park/MovieWorld, Travel Parks, Parque de Atracciones Madrid, Parque Europa de Torrejón de Ardoz and Parques Reunidos are water parks, amusement parks or theme parks nearby. If you are craving for activities and experiences with your children. Are you looking for aquariums, tropical houses, safari parks, tropicariums, zoos, and terrariums nearby? Zoo Aquarium de Madrid and Faunia might be worth a visit.
Car hire in airports nearby
Car hire in airports nearby: Compare Rental Cars Madrid-Barajas Airport and Madrid-Torrejón Airport.
Car rental companies in Madrid, Spain
Sixt, Faycan, Thrifty, Autoclick, Niza, Owners Cars, Atesa, Flizzr, Maggiore, Drivalia, Dollar, Europcar, InterRent, Autos Aguirre, Keddy By Europcar, Dickmanns, Cooltra Scooter, Hertz, Enterprise, Goldcar, Delpaso, National, ClickRent, AutoReisen, Orcar Canarias, Firefly, Solmar, CICAR, Autos Menorca, Nomadcar, Marbesol, Centauro, Rhodium, Canarias.com, Orlando, Alamo, TopCar, Avis, Hiper Rent a car, Record, Autos Valls, OK Rent a Car, Malco Rent a Car, Class Rent a Car, La Palma 24, Surprice, Wiber, King rent, Budget and Hertz Dream Collection are the companies we compare near Madrid to find the best price. You can usually find the largest selection at airports such as Adolfo Suárez Madrid-Barajas Airport and Madrid Torrejón de Ardoz Airport. The large companies usually have offices adjacent to the airport.
Car Hire & Rent a Car Madrid Customer Reviews & Feedback