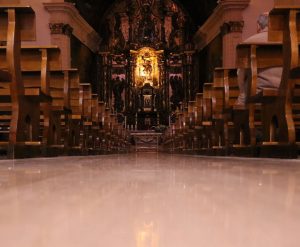 Easy and safe online booking for rental cars. Search for a city, airport etc. and choose a pick up location. The search will look for all types of models. Rental cars are available at Palma de Mallorca's travel centre, train stations (Ferrocarril de Sóller, Son Fuster, Verge de Lluc, Pont d'Inca Nou, Polígon de Marratxí, Marratxí and Es Caülls/ Festival Park) and airports like Palma de Mallorca Airport, PMI and ports/ferry terminals like Port of Palma, Es Portitxol and Palma Harbour. Car hire where every cost is included, no hidden fees and free cancellations/amendments up to 24 hours before you pick up the car.
Find the best prices for rental cars online. Comparing prices online can be very profitable, many smaller companies can otherwise only be booked on site. Comparison of rental cars and car hires from several businesses in the city of Palma de Mallorca, Spain. Europcar on Av Ingeniero Gabriel Roca 19 Bajo Sola, Wiber on Camí Vell de Llucmajor 41 de Mayorca, Wiber on Calle Son Malferit C 18a 07007, Enterprise on Avenida Gabriel Roca Muelle Golondrinas, Alamo on Avenida Gabriel Roca Muelle Golondrina, Ok Paseo Marítimo on Avinguda de Gabriel Roca 14, Budget on Ingeniero Gabriel Roca 16, Avis on Av Ingeniero Avinguda de Gabriel Roca 16, Goldcar on Avda Ingeniero Avinguda de Gabriel Roca 29, Lucky on Carrer Doliver 20, Interrent Paseo Marítimo on Hotel Palace Atanea Avenida Ingeniero Avinguda de Gabriel Roca 29 Bajos are the companies we compare in the city and in Balearic Islands to find the best price.
Information about the city Palma de Mallorca (Palma Mallorcakoa, Palma, Madina Mayurqa), located in Balearic Islands, Balearic Islands region, Spain. It is the county seat in the region. 1th largest city/district when it comes to inhabitants in the region and the 8th largest town/community in Spain. Smaller villages, communities and suburbs nearby are Soller, sa Pobla, Santanyí, Son Servera, Andratx, Porto Pi, Son Rapinya, Cala Mayor and La Indioteria. With about 401 300 (2015) inhabitants. Calvià (c. 51800 pop), Manacor (c. 40500 pop) and Llucmajor (c. 36100 pop) are other larger communities, cities nearby. The town/city is located about 34 MASL. Read more about what the city has to offer when it comes to experiences and which companies are located in Spain and Balearic Islands. Son Sardina and UIB are subway (metro) stations nearby. Get some tips on local companies in Balearic Islands.
Wondering what there is to see and do in Palma de Mallorca? Here are a few suggestions on activities, attractions, museums, events, destinations, places and experiences that are worth a visit during your holiday in the city. Look at famous statues and monuments of famous people and events like Obelisco and Banys Àrabs. Plaça del Marquès del Palmer, Plaça Reina Maria Cristina, Plaza Pius IX, Plaza Nova, Plaça de la Drassana and Plaça del Mercat are notable large open spaces and squares which are located in the central parts of town. Amusements parks, water parks and theme parks in and surrounding the city are Aqualand El Arenal, Jungle Parc Junior, Mallorca Madness, Marineland Mallorca, Kart magaluf, Western Park Magaluf, Jungle Parc, Forestal Park Mallorca, Golf Fantasía and Katmandu Park. Want to spend a day watching animals? Zoos, aquariums, tropicariums, terrariums, tropical houses and safari parks that are nearby are Palma Aquarium and Monkey park. Are you planning a wine tour and tasting in Palma de Mallorca? Some of the vineyards and wine producers that are close to the the city are, for example, Bodegas Son Puig, Bodegas Angel, Bodega Son Vich de Superna, Celler Sebastià Pastor, Bodega Es Verger and Alconde S.L..
Es Baluard Museum of Modern and Contemporary Art, Es Baluard Museum of modern and contemporary art, Museu La Granja d'Esporles, Casal Solleric, Museum Diocesa, Fundació Pilar i Joan Miró a Mallorca, Museo Historico Militar Castillo San Carlos, Museo Can Morey de Santmarti and Museum of Mallorca are located nearby. Maybe a day at the museums and art galleries of the town? Club d'Equitació Es Pas, Club Torre Den Pau, Global Tennis Team, Tenis Arenal, Ciutat Esportiva Antonio Asensio, Palma Racket Club and Open Marratxí Padel i Tenis are located nearby if you want to watch sports or see a game. To watch and experience football, sports and concerts etc. you can visit Iberostar Stadium and Palma Arena. Centres and areas for recreation and activities are Centro Cultural la Misericordia, which are located close to the town centre. Make a visit to these historical ruins and places, Roca des Castellet. Golf trip and need to rent a car? Real Golf Bendinat 6 km, Golf Son Muntaner 4 km, Club de Golf Son Vida 5 km, Club de Golf Son Termens 12 km, Golf Son Quint 5 km and Golf Son Gual 13 km are some golf courses that are close to the community.
Historical and archaeological attractions that are worth seeing nearby are Poblat de Cas Quitxero and Cova prehistòrica Son Caulelles. Beautiful churches or cathedrals not far away are Església Ntra. Sra. del Remei, Parish Church of San Antonio de la Playa, Parish Church of San Fernando de Palma, Basilika San Francisco and Parroquia Sant Miquel. Feixina Park and Marivent Garden are located in the city if you want to experience parks and gardens recommended by us. Viewpoint Son Verí Nou are located within walking distance from the town centre, which gives you a complete overview of the city. Relaxing and beautiful green areas, parks and plantings worth seeing are Hort del Rei, Park Sa Riera, Petrolera Park, Park les Estacions and Park Sin Columpios. Malls like Porto Pi Shopping Centre, La Vila Centro Comercial, Alcampo, Mallorca Expansión Comercial, FAN Mallorca Shopping, IKEA Mallorca, Leroy Merlin, Mallorca Fashion Outlet and El Corte Inglés are close by if you want to do some shopping.
You can gamble for money at a casino on Black Jack or Roulette at e.g. Casino de Mallorca. Watch horse racing and harness racing etc. at motor stadiums and race tracks such as Hippodrome Son Pardo. Ses Fontanelles, Playa Mayor, Platja dde S'Oratori, La Ribera, Playa Porticholet, Platja de Ses Illetes, Es Puntarro and Playa Ciudad Jardín are beaches that are close to the community if you want to relax, swim and sunbathe. Plaza de Toros de (Bullring) Palma, these amphitheatres are located close to the centre of Palma de Mallorca. Why not visit Theater Mar, Ses Voltes, Auditorium of Palma de Mallorca, Centre Cultural Contemporani Pelaires, Can Alcover and Theater Principal to experience and see music, plays and shows nearby Palma de Mallorca. Son Peretó, Raixa, Son Fort, Bell Agre, Son Puig, palace Palace of l´Almudaina, Palace of la Almudaina, Son Verí and Palau Episcopal are exciting, older, magnificent buildings such as mansions and palaces nearby. In the town centre there are new as well as old interesting castles to look at, such as Castell de (Castle) Bellver.
Car hire in airports nearby
Car hire in airports nearby: Rental Cars Palma de Mallorca Airport.
Car rental companies in Palma de Mallorca, Spain
We compare these companies in Palma de Mallorca or in the region, TopCar, Class Rent a Car, National, Surprice, ClickRent, Rhodium, Marbesol, Hertz, Owners Cars, Hiper Rent a car, Avis, Orlando, Record, OK Rent a Car, Hertz Dream Collection, Niza, Budget, Autos Menorca, Solmar, Nomadcar, Alamo, Malco Rent a Car, Cooltra Scooter, InterRent, CICAR, Thrifty, Enterprise, Europcar, Firefly, Flizzr, Goldcar, Autos Aguirre, Canarias.com, Dickmanns, Sixt, Drivalia, King rent, Autos Valls, Autoclick, La Palma 24, Keddy By Europcar, Maggiore, Atesa, AutoReisen, Dollar, Delpaso, Orcar Canarias, Centauro, Faycan and Wiber. You can usually find the largest selection at airports such as Palma de Mallorca Son Sant Joan Airport. The large companies usually have offices adjacent to the airport.
Car Hire & Rent a Car Palma de Mallorca Customer Reviews & Feedback