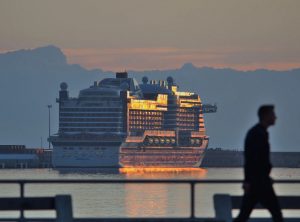 Many car rental agencies have their offices at the airport. There are a number of car rental offices inside Palma de Mallorca Airport like Europcar, Goldcar, Hertz, Record Go, Avis, Alamo, Enterprise, Rhodium, Sixt and Thrifty. They can be easily accessed at arrivals on the ground floor of Palma Airport.
Be aware that prices can change for car hire at the airport depending on the time of year, type of car, fuel policy and extras. Extras that you choose such as additional drivers, child seats, GPS and WiFi will be added to the daily cost and will make the total price increase. Car rental prices are usually higher when you book on the same day compared to pre-booking ahead of time. Search for rental cars that you pick up directly at Palma de Mallorca Son Sant Joan Airport. Our search box looks for all pick up locations nearby. Rent a car where every cost is included, no hidden fees and free cancellations/amendments up to 24 hours before you are supposed to pick up the car. Easy and safe online booking of rental cars.
Autospain.co.uk lists prices from companies that are safe and quality assured so that there will not be any problems when you want to pick up your car. Airport code is IATA: PMI and ICAO: LEPA. Large and safe or small and cheap? It pays off to compare before you book. Here you can compare rental cars and vehicle rent from several companies at Palma de Mallorca Airport in Palma de Mallorca, Spain. Closest communities are Can Pastilla 2 km, Coll d'en Rabassa 3 km, Es Molinar 5 km, S'Arenal 6 km and Palma de Mallorca 7 km.
Compare car hire companies
To find the best price, compare the following companies Record on Disseminat Aeropuerto Son Sant Jo 75, Alamo on Aeropuerto Son Sant Juan, Record Go on Disseminat Aeropuerto Son Sant Jo 75, Thrifty, Hiper Aeropuerto on Camino Can Pastilla S N Islas Baleares, Sixt on Zona Llegadas, Interrent on Son Sant Joan, Enterprise, Hertz on Disseminat Aeropuerto Son Sant Jo, Goldcar on Disseminat Aeropuerto Son Sant Jo, Ok Son Oms on Polígono Son Oms Carrer Son Fangós, Centauro on Camí de Son Fangos 147, Avis on Carretera de Laeroport, Europcar Arenal on Calle Mar Menor N 5 Local 9 Camí de Les Meravelles, Hiperrentacar on Camino Son Garcías, Eurorent on Aeropuerto Son San Joan, Sol Y Mar on Carrer de Marbella 20, Europcar on Son San Juan Airport Terminal A Sola at autospain.co.uk in Spain. Collect the car in one place and return it somewhere else, e.g. another city or country. It is possible to rent a car for one way, called the one way rental. Standard, economy, 7 seat minivan, moped, intermediate, premium, minivan, estate, luxury, fullsize, cargo van, compact, 9 seat minivan, minibus, 5 seat minivan, suv, jeep, mini, convertible and automatic transmission cars are car types and models that autospain.co.uk can compare prices on. Compare car hire for a day, long term, one year, a whole month, week, weekend or for as many days as you wish.
About Palma de Mallorca Airport (Palma de Mallorca Son Sant Joan Airport) facts, data and information. The airport is the main base for Air Europa and a focus airport for Ryanair, EasyJet, Jet2 and Vueling. The airport shares runways with Son Sant Joan Air Force Base. There are four modules/terminals at the airport: Module A, Module B, Module C and Module D. The duty-free shopping area is on the fourth floor. The airport which is in the municipality of Balearic Islands, in the Balearic Islands region, in Spain. Palma de Mallorca Airport, Aeropuerto de Palma, Son Sant Joan Airport, Palma de Mallorca Son Sant Joan Airport, Aeropuerto de Palma de Mallorca, Aeroport de Palma de Mallorca, International are alternative names. The airport is located above sea level by 24 feet/7 meters. Closest big cities and communities are Palma de Mallorca 7 km (c. 401300 pop), Calvià 20 km (c. 51800 pop), Manacor 41 km (c. 40500 pop), Llucmajor 15 km (c. 36100 pop) and Marratxí 8 km (c. 33300 pop). Are you planning to, or flying to/from, and will be using Palma de Mallorca Son Sant Joan Airport on your holiday or trip? Here you can find information, maps, weather, contact information and airport information. More information on where to you pick up or return your rental car, will be given after your reservation has been made. All companies have their own offices where you can pick up keys etc. Tax-free shopping? In the airport and nearby are e.g. FAN Mallorca Shopping, IKEA Mallorca and Alcampo. They are only a walk from the terminal.
Need a place to sleep? Apts Allsun Pil Lari Playa, Hotel Be Live Punta Amer, Apartamentos Don Juan and Hotel Roc Leo are examples of hotels and youth hostels close to the airport. They are all within 3 km. Nearby are car rental companies such as Clickrent on Polígono Son Oms Carrer del Camp Franc 27, Drivalia on Carrer del Canal de Sant Jordi 9, National on Aeropuerto Son Sant Juan, Autoclick on Poligono de Carrer Son Oms Carrer Son Oms, Sixt on C Canal de Sant Jordi 29 Carrer Son Oms 2 L2, Hiper on Cami de Can Pastilla 41, Dollar on Calle Sant Joan de Deu 3, Hiperrentacar on Camí de Can Pastilla 45 Can Pastilla, Gold Car on Carrer Son Oms 2 25, Sixt on Carrer de Marbella 53 B, OK on Camí de Son Fangos 145.
Bus, Taxi and Parking
From the airport, public buses run frequently to central Palma. EMT's Line 1 bus service runs from the airport every fifteen min. The main train, bus, and metro station is underground, at Plaça d'Espanya in Palma. Regional buses to destinations around the island are operated mainly by TIB. There are two bus companies that offer airport bus service. EMT buses go to and from Palma. TIB buses connect the airport with other destinations on the island. Son Sardina and UIB are subway (metro) stations near the airport. If you come to the airport, or will continue by train when you have left or picked up the rental car, Verge de Lluc, Pont d'Inca Nou, Son Fuster and Ferrocarril de Sóller are nearby.
A taxi from the airport to the city centre takes max 15 min without traffic. There is no train service to the airport. There is train transportation, but limited to Puerto de Sóller, Inca, Sa Pobla, Manacor and Sineu. The car park offers 24-hour service and charging stations for electric cars.
Car rental companies at Palma de Mallorca Son Sant Joan Airport (PMI), Spain
When you are looking for rental cars, we compare these companies Rhodium, Dickmanns, La Palma 24, Goldcar, AutoReisen, Surprice, ClickRent, Dollar, Atesa, InterRent, CICAR, Budget, Wiber, Record, Niza, Owners Cars, Orcar Canarias, National, Hertz, Firefly, Europcar, Sixt, TopCar, Hiper Rent a car, Thrifty, Canarias.com, Marbesol, Drivalia, Keddy By Europcar, Solmar, Autos Valls, Delpaso, Autos Menorca, Hertz Dream Collection, King Rent, Alamo, Nomadcar, Malco Rent a Car, Orlando, Avis, OK Rent a Car, Centauro, Cooltra Scooter, Class Rent a Car, Flizzr, Faycan, Key and Go, Autos Aguirre, Autoclick, Enterprise and Maggiore at autospain.co.uk, all with offices in Spain.
Van rental & Rent a Car Palma de Mallorca Son Sant Joan Airport Customer Feedback & Reviews