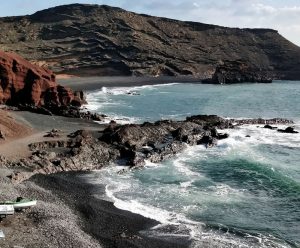 It always pays off to compare before you book, especially on rental cars. The price can differ very much between different companies. At autospain.co.uk you can compare prices on rental cars and car hire from several companies on the island Lanzarote, Spain. Find the best prices for rental cars online. Closest cities are Teguise, Tinajo, Nazaret, San Bartolomé and Tías.
Use a rental car for a tour of the island and drive at your own pace. Rental cars at Lanzarote's ferry terminals and ports (La Grandiosa Ferry Port, Puerto deportivo Marina Rubicon, Arrecife Ferry Port, Puerto Calero, Corralejo Ferry Port, Orzola Ferry Port, Puerto del Carmen and Playa Blanca Ferry Port), travel centres, train stations and airports (Fuerteventura Airport and Lanzarote Airport). Choose between different locations where to pick up your car. You can rent through us where the companies have their offices. Car rental where every cost is included, no hidden fees and free cancellations/amendments up to 24 hours before you are supposed to pick up the car. Easy and safe online booking of rental cars. Compare the number of days you want, week, weekend, rent for a day, a year, a whole month or a long-term. Autoclick, Malco Rent a Car, Dollar, Nomadcar, National, Rhodium, Hiper Rent a car, Dickmanns, Delpaso, Goldcar, Orcar Canarias, Surprice, CICAR, OK Rent a Car, Europcar, Firefly, Alamo, Record, InterRent, Atesa, Sixt, Faycan, Hertz Dream Collection, Owners Cars, Keddy By Europcar, TopCar, Cooltra Scooter, Drivalia, Enterprise, Canarias.com, Autos Aguirre, Orlando, Marbesol, Autos Valls, Hertz, Maggiore, King rent, Budget, Class Rent a Car, ClickRent, Thrifty, AutoReisen, Centauro, Flizzr, Autos Menorca, Niza, Avis, La Palma 24, Solmar are the companies we compare on the island to find the best prices.
Information about Lanzarote (Lanzarote Island). An island located in the municipality of Las Palmas, in the Canary Islands region, in Spain. About 139 000 (2015) inhabitants live on the island. Gran Canaria, Fuerteventura, Alegranza, Isla de Montaña Clara, Graciosa, Lobos Island, La Isleta, Islote del Francés and Isla de Cruces, etc., are large and small islands located nearby. Driving between islands via ferry is usually not allowed (Island Crossings). Read more in the rental terms when you search before booking. Lanzarote Island, Isla de Lanzarote, Lanzarote is an alternative name or other names for this island. Teguise, Tinajo, Nazaret, San Bartolomé and Tías are small towns, suburbs and villages that are close by. Nearby cities/communities are e.g. Arrecife (c. 59100 pop), Puerto del Rosario (c. 35700 pop), Puerto del Carmen (c. 30000 pop), La Oliva (c. 22000 pop), Tías (c. 19800 pop), Teguise (c. 19400 pop) and San Bartolomé (c. 18500 pop) etc. If you want to know more about Lanzarote you can read more on the home page. The search looks for all combinations, so seek for airport, city or something like that.
Staying long on Lanzarote? Some suggestions and tips on activities, attractions, experiences, destinations and places that are worth a visit during your trip. Montaña Colorada, Volcán El Cuervo and La Geria are active or inactive volcanoes located close to the region. Peñas del Chache, Monte Corona and Monte Roja are among the highest mountains on the island. Pico Redondo, Pico Redondo and Pico Partido are among the highest mountain peaks on the island. Are you planning a wine tour and tasting in Spain? Wineries and wine producers on or close to Lanzarote are, for example, Bodegas El Grifo, Bodegas Rubicón, Wein Patio, Casa Diama, Bodega El Chupadero, El Temblejador, Bodega los Bermejos, Bodega Reymar and Bodega La Florida. A day for relaxing and sun basking on the beach at Playa Honda, Playa El Complejo, Puerto del Carmen, Fariones Playa, Playa Reducto, Playa Quemada, Playa Chica, Playa de los Pocillos and Playa de Matagorda. They are all in the area. To see the whole of the island from a viewpoint, please visit Viewpoint Playa Grande, Viewpoint of El Risco de Famara and Viewpoint Barranco del Chafarís. Notable amusements parks, water parks and theme parks on or close to the island are Go Karting Bartolomé, Gran Karting Club Lanzarote, Aquapark Costa Teguise, Rancho Texas Lanzarote Park and Acua Water Park Corralejo. Jameos del Agua, Cueva de (Cave) Los Naturalistas and Cueva de (Cave) los Verdes are fascinating caves you can visit when you visit Lanzarote. Lanzarote Golf, Costa Teguise Golf Club and Golf Costa Teguise are some golf courses that are close to or on the island.
Destinations on Lanzarote
Car hire in airports nearby: Car Rental Lanzarote Arrecife Airport and Fuerteventura Airport. Car rental in nearby cities: Car Rental Arrecife, Puerto del Rosario, Puerto del Carmen, La Oliva and Pájara. Rent a car on islands nearby: Rental Cars Gran Canaria, Fuerteventura, Graciosa, Lobos Island and Isla de Montaña Clara.
Car hire companies we compare on Lanzarote Island, Spain
When you are looking for a rental car on Lanzarote, autospain.co.uk compares, for example, these companies: Marbesol, AutoReisen, Hertz, Drivalia, King rent, Autos Menorca, Avis, TopCar, Budget, Keddy By Europcar, Solmar, Sixt, Delpaso, Rhodium, National, Niza, Maggiore, Wiber, Orcar Canarias, Orlando, Alamo, Class Rent a Car, Flizzr, Surprice, Hertz Dream Collection, Dickmanns, Cooltra Scooter, InterRent, Centauro, La Palma 24, Canarias.com, OK Rent a Car, Autoclick, Malco Rent a Car, Thrifty, Faycan, Nomadcar, CICAR, Autos Valls, Hiper Rent a car, Firefly, Record, Europcar, Autos Aguirre, Enterprise, Goldcar, Atesa, Dollar, ClickRent and Owners Cars.
Car Hire & Rent a Car Lanzarote Island Customer Reviews & Feedback