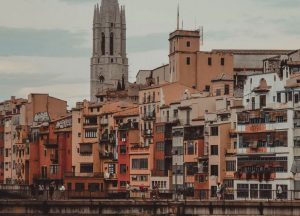 Rental cars are available at Girona's travel centre, train stations (Girona Railway Station, Fornells de la Selva Station, Bordils-Juia, Riudellots and Caldes de Malavella Station) and airports like Girona–Costa Brava Airport and Sabadell Airport, GRO. A car hire service where every cost is included, no hidden fees and free cancellations/amendments up to 24 hours before you pick up the car. Easy and safe online booking of rental cars. Search for a city, airport etc. and choose a pick up place. Comparison of rental car prices and car hire from several businesses in the town Girona in Spain. Find the best prices for rental cars. It always pays off to compare before you book, in some smaller communities local companies can have very competitive prices. To find the best price, we compare the following companies; Enterprise on Estacion de Tren Ave Plaza de España, Alamo on Estación de Tren Plaza de España, Europcar on Estacion de Tren Plaça Espanya, Avis on Estación de Tren Plaza de España 11, Hertz Estació de Ferrocarril on Carrer 33, Sixt Renfe on Carrer 33, National on Estación de Tren Plaza de España, Budget on Estación Ave Plaza de España, Thrifty Gerona on Carrer 33.
Girona (Gerona) is located in the municipality Girona, Catalonia region, Spain and is a town. It is the central city in the area. It is the 20th largest town/city when it comes to inhabitants in the region and the 94th largest city/district in Spain. With about 96 200 (2015) inhabitants. Smaller communities, villages and suburbs nearby are la Garriga, Canet de Mar, Torelló, Castelló d'Empúries, Santa Coloma de Farners, Sant Ponç, Santa Eugènia de Ter, Sant Daniel and la Creueta. Larger surrounding cities/communities are Mataró (c. 121700 pop), Figueres (c. 43300 pop) and Blanes (c. 40000 pop). The community and town is about 81 meters above sea level. Whether you are visiting the town Girona just for one day or for a longer period, there is plenty to do. Read more further down. Bus stations and bus stops in the city are Estació d'autobusos. We also give tips on which companies offer rental cars in Girona.
A few suggestions on events, attractions, museums, activities, experiences, places and destinations in Girona which are worth a visit during your holiday in the town. Notable churches or cathedrals are Church of Sant Cugat, Basílica de (Basilica) Sant Feliu and Parish Church of Santa Susana del Mercadal which are close by. Interesting monasteries/nunneries or cloisters that are close by, are Monastery of Sant Daniel and Monastery of Sant Pere de Galligants. Want to watch a game or sports, maybe go to a concert? Close to the city are Municipal Stadium of Montilivi. Maybe see a local game of football? Recreation and activities? Casa de Cultura de Girona are located close to the town centre. Close to Girona there are castles worth seeing such as Castell de (Castle) Púbol and Palau Sacosta Castle. Close by there are interesting forts, strongholds and fortresses such as, Castell de (Castle) Montjuïc.
Fascinating parks and gardens in the central parts of the city are Gardens of la Muralla and Gardens of la Devesa. Parks, green areas and plantings worth visiting for recreation and relaxing are Park Rec Monar, Park Migdia and El Calvari. To experience and watch exciting history and archaeology, visit these nearby places, San Clemente de Amer, Antic Hospital de Santa Caterina and Portal de Sobreportes. Are you going on a golf trip and looking for golf courses? The golf courses, P.G.A. Golf de Cataluña 15 km, Club Golf d' Aro-Mas Nou 23 km and Pitch & putt Franciac 13 km, are located close to the city. Visit Sala La Planeta, El Canal and Theater Salt to see and experience plays, music and shows in the town centre.
Museums and art galleries in Girona that could be interesting are Museu d'Art, Museu d'Història dels Jueus and Cathedral of Girona. In the city, there are interesting monuments and statues of famous people and events like Banys Àrabs. Beautiful vast open spaces or squares close by are Plaça de la Independència, Placa de Hospital and Plaça de la Catedral.
Nearby destinations, Girona
Car hire in airports nearby: Compare Rental Cars Girona-Costa Brava Airport and Sabadell Airport.
Car rental companies in Girona, Spain
We compare these companies in Girona or in the region, Avis, Hertz, Europcar, Budget, Sixt, Thrifty, National, Alamo, Enterprise, Keddy By Europcar, InterRent, Dollar, Firefly, Flizzr, Goldcar, Surprice, Rhodium, Hertz Dream Collection, Autoclick and King rent. You can usually find the largest selection at airports such as Sabadell Airport and Girona-Costa Brava Airport. The large companies usually have offices adjacent to the airport.
Car Hire & Rent a Car Girona Customer Reviews & Feedback