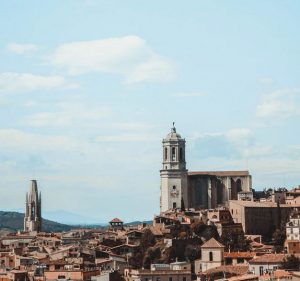 We can offer car hire where every cost is included, no hidden fees and free cancellations/amendments up to 24 hours before you are supposed to retrieve the car. Easy and safe online search for rental cars. Rental cars you can pick up directly at the airport, Girona-Costa Brava Airport. Look for a location and a choose destination in the list.
It always pays off to compare before you book. Small local businesses often have very good prices. We compare rental car prices and car hires from many companies at Girona-Costa Brava Airport in Girona, Spain and find the best prices on rental cars. Closest cities are Salt 9 km, Santa Coloma de Farners 9 km, Cassà de la Selva 10 km, Girona 11 km, Anglès 12 km and Llagostera 14 km. Autospain.co.uk lists prices from companies that are safe and quality assured so that there will be no problems when you arrive. Airport code is IATA: GRO and ICAO: LEGE. Compare long-term rental for one day, one year, a whole month, week, weekend, or for as many days as you wish. Firefly on Es, Drivalia on Carretera Nacional 156 Km 1 6 Cim Vilobí Donyar, Budget on Carreterea Aeropuerto, Europcar on Gerona 300 Metros Gi Es Carrer Polig Industria Parcela 1 A Vilobí Donyar, Goldcar on Carretera del Aeropuerto S N Vilobí Donyar, Avis on Aeropuerto de Carretera Aeropuerto S N Vilobí Donyar, Sixt on Costa Bravo Ctra del Aeropuerto S N Aeropuerto, Firefly on Vilobí Donyar, Hertz, Avis on Carretera Apt300m Desd el Term Aeropuerto Entrada Rotonda Vilobí Donyar, Firefly, Interrent on Vilobí Donyar Aeropuerto, Goldcar Europa on Vilobí Donyar, Thrifty on Aeropuerto are the companies we compare at/in the airport/country. Collect the car in one place and return it somewhere else, e.g. another city or country. It is possible to rent a car for one way, called the one way rental. 5 seat minivan, 7 seat minivan, compact, suv, jeep, fullsize, 9 seat minivan, minibus, standard, intermediate, minivan, premium, economy, mini, estate, luxury, convertible, cargo van, moped and automatic transmission cars are car types and models that autospain.co.uk can compare prices on.
About Girona-Costa Brava Airport (Girona-Costa Brava Airport) facts, information and data. The airport is in the municipality of Girona, in the Catalonia region, in Spain. The airports Sabadell Airport and Barcelona–El Prat Airport are also nearby. The airport is located about 468 feet/143 meters above sea level. Other names for this airport could be Aeroport de Girona – Costa Brava, Girona-Costa Brava Airport, Girona-Costa Brava aireportua, Aeropuerto de Gerona, Aeroporto de Xirona-Costa Brava, International. Closest big cities are Barcelona 76 km (c. 1621500 pop), Eixample 76 km (c. 266500 pop), L'Hospitalet de Llobregat 81 km (c. 257000 pop), Sant Martí 71 km (c. 235700 pop), Badalona 66 km (c. 219500 pop) and Terrassa 72 km (c. 210900 pop). Buses? These stations and stops for buses are located at the airport Estació d'autobusos. You will find accurate information about where to pick up and/or return your car on your order/voucher. All rental car companies have their own offices where you pick up keys etc. If you are planning or will be flying to, or from and use Girona-Costa Brava Airport, you will find information about the airport, maps, contact information and the weather here. If you come to the airport, or will continue by train when you have left or picked up the rental car, Riudellots, Fornells de la Selva Station and Caldes de Malavella Station are nearby. Do you need to stay overnight after your arrival? Then the following hotels, Golf Vichy Catalán, Novotel Girona Aeropuerto Hotel, Hotel Eden Park By Brava Hotels, Salles Aeroport Girona and Vilobi, are nearby.
Car rental companies at Girona-Costa Brava Airport (GRO), Spain
We at autospain.co.uk compare these companies in Spain, OK Rent a Car, Centauro, Nomadcar, Niza, Key and Go, Delpaso, Autoclick, Cooltra Scooter, Autos Menorca, Canarias.com, Avis, Rhodium, Hertz, King Rent, Marbesol, CICAR, Dollar, TopCar, Atesa, Orlando, Class Rent a Car, Faycan, Firefly, Hiper Rent a car, Keddy By Europcar, Orcar Canarias, ClickRent, National, Europcar, InterRent, Maggiore, Flizzr, Autos Aguirre, Surprice, Wiber, AutoReisen, Record, Dickmanns, Solmar, Enterprise, Sixt, Drivalia, La Palma 24, Hertz Dream Collection, Malco Rent a Car, Autos Valls, Goldcar, Thrifty, Alamo, Budget and Owners Cars.
Van rental & Rent a Car Girona-Costa Brava Airport Customer Feedback & Reviews