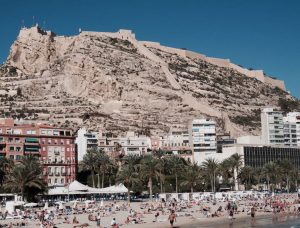 Looking for a rental car in Alicante? We can provide an easy and safe booking online for rental cars. Search for a city, airport etc. and choose a pick up location. The search will look for all types of car models in the city of Alicante.
Rental cars that you can pick-up at Alicante's travel centres, train stations (Estación de la Marina (Trenet), Alicante Railway Station, San Gabriel, Torrellano, El Campello and Coveta Fumà) and airports like Alicante-Elche Airport, Murcia–San Javier Airport and Corvera Airport, ALC and ports/ferry terminals like Marina Alicante, Alicante Port and Club Náutico Alicante Costa Blanca. Car hire where every cost is included, no hidden fees and free cancellations/amendments up to 24-48 hours before you pick up the car.
Compare prices on car rental in Alicante from companies like:
Hertz on Avenida de la Estación 20
Sixt on Avda de la Estación 20 Bajo A Estación
Enterprise on Estacion de Tren Avenida S N Local 14
ACE on Avenida de la Estación 22
National on Estación de Tren Avenida
Thrifty Ave on Avenida de la Estación 20
Europcar on Estacion Adif Terminal Ave Avenida 1
Sixt on Plaza Puerta del Mar 3
Budget on Avenida 1
Goldcar on Avenida de la Estación 22
Alamo on Estación de Tren Avenida
Avis on Renfe Estacion Avenida 1
Thrifty Ap on Es Avenida de la Estación 20
Budget on Avda de 1
We compare large companies as well as small and find the best price for all types of cars. Compare rental cars and renting of a vehicle from several companies in the town of Alicante in Spain. Learn more about which car rental companies are located in the country with our guide.
About the town Alicante (Alacant) in the region of Valencia in Spain. It is the central city in the area. Is a hub for tourism to the beaches on the Costa Blanca. 2th largest town/city when it comes to inhabitants in the region and the 11th largest town/district in Spain. Regardless of how long you are staying the town there are things to experience and do. Small villages, communities and suburbs nearby are Teulada, Canals, Benissa, Monòver, Albatera, Babel, Vista Hermosa de la Cruz, Ciudad Jardín, Villafranqueza and urbanización Haygón. The community/city is located about 18 MASL. The town has about 334 800 (2015) inhabitants. Other larger cities/communities nearby are Elche (c. 230100 pop), Torrevieja (c. 101800 pop) and Orihuela (c. 86200 pop). Estación de Autobuses de Alicante / Alicante Bus Station, Shuttle Direct are bus stations and stops nearby.
What to do in Alicante?
Are you staying for a long time in Alicante? Some suggestions and tips on museums, activities, events, attractions, experiences, destinations and places that are worth a visit during your trip to the town. If you crave activities and experiences and want to visit e.g. water parks, amusement parks or theme parks you can visit Pola Park Zaragoza and Playground Tráfico. Vida y Color and Acuario Municipal de Santa Pola are tropicariums, tropical houses, zoos, aquariums, safari parks and terrariums that are nearby. Beautiful vast open spaces or squares close by are Plaza Soledad, Plaza Portal de Elche, Plaza Calvo Sotelo, Plaza Del Mediterráneo and Plaza de la Muntanyeta. Fnac Alicante, Alcampo, Centro Comercial Gran Vía Alicante and Centro Comercial Puerta de Alicante are malls in the city if you want to do some shopping.

Find the best car hire and cheapest car rental in airports nearby
Find the best car hire and cheapest car rental in airports nearby: Hire a Car Cheap Murcia-Corvera Airport, Hire Cars Alicante-Elche Airport and Rent a Car Cheap Murcia-San Javier Airport. Comparison of rental cars and car hires from several businesses in Alicante.
Car rental companies in Alicante, Spain
To find the best price, we compare the following companies; Enterprise, Goldcar, Autos Valls, InterRent, Record, Faycan, Orlando, National, Alamo, Hertz, Centauro, Rhodium, Keddy By Europcar, Autoclick, Malco Rent a Car, Nomadcar, Marbesol, Canarias.com, Cooltra Scooter, Orcar Canarias, Budget, Owners Cars, Autos Menorca, Thrifty, Flizzr, TopCar, Atesa, Europcar, King Rent, Avis, Delpaso, Firefly, Dollar, OK Rent a Car, Surprice, Hiper Rent a car, Dickmanns, Autos Aguirre, Hertz Dream Collection, Drivalia, Wiber, Key and Go, ClickRent, Solmar, CICAR, Maggiore, Class Rent a Car, Niza, AutoReisen, La Palma 24 and Sixt. You can usually find the largest selection at airports such as Murcia-Corvera International Airport, Alicante-Elche El Altet Airport and Murcia-San Javier Airport. The large companies usually have offices adjacent to the airport.
Van rental & Rent a Car Alicante Customer Feedback & Reviews