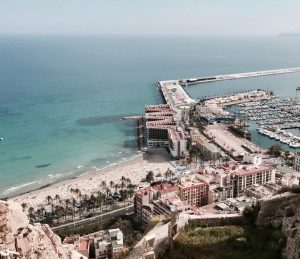 It always pays off to compare before you book. Small local businesses often have very good prices. We compare rental car prices and car hires from many companies at Alicante-Elche Airport in Alicante, Spain and find the best prices on rental cars. Closest cities are Alicante 10 km, Santa Pola 10 km, Elche 13 km, San Vicent del Raspeig 13 km, San Juan de Alicante 17 km and Mutxamel 18 km. Autospain.co.uk lists prices from companies that are safe and quality assured so that there will be no problems when you arrive. Airport code is IATA: ALC and ICAO: LEAL.
We have easy and safe online booking for rental cars. Look for rental cars that you can pick up at Alicante-Elche El Altet Airport. In the search box you can search for the location you want and choose from the list. Car hire, where every cost is included, no hidden fees and free cancellations/amendments up to 24 hours before you are supposed to pick up the car. Centauro on Aeropuerto, Centauro on Aeroport D Laltet, Clickrent on Carretera del Aeropuerto A Torrellano Carretera Cv 852 38 17269 0 33569 Elx, ACE, Record Go on Planta 0 N 338 Laltet, Goldcar, Dickmanns on Cv 852 Km 1 5 Alacant, Europcar on El Altet, Victoria Parking on Polígono 2 Partida Lo Morant 136 Laltet, Interrent on Aeropuerto el Altet Alacant, Avis on Alacant, Avis, Hertz, Thrifty, Budget on Planta 1 Alacant, Firefly on Ap Car Park Alacant, Skippy on Elx Av Dama de 4, Sixt on Zona Llegadas Arrivals Laltet are the companies we compare at the airport to find the best price. Intermediate, mini, standard, luxury, cargo van, compact, moped, convertible, suv, jeep, premium, estate, fullsize, 5 seat minivan, 9 seat minivan, minibus, minivan, 7 seat minivan, economy and automatic transmission cars are car types and models that autospain.co.uk can compare prices on. It is possible to rent a car for one way, this is called a one way rental. You collect the car in one place and return it somewhere else, e.g. another city or country. Compare long-term rental for one day, one year, a whole month, week, weekend, or for as many days as you wish.
Information, facts and data about Alicante-Elche Airport (Alicante-Elche El Altet Airport). In the municipality of Alicante, in the Valencia region, in Spain. Alternative names for the airport are Aeropuerto Internacional de Alicante – El Altet, Aeropuerto de Alicante-Elche, Alicante–Elche Airport, El Altet Airport, Alicante-Elche El Altet Airport, International. Murcia 60 km (c. 436900 pop), Alicante 10 km (c. 334800 pop), Elche 13 km (c. 230100 pop), Cartagena 84 km (c. 212000 pop) and Torrevieja 35 km (c. 101800 pop) are the closest big cities. Murcia–San Javier Airport and Corvera Airport are nearby airports. The airport is located above sea level by 142 feet/43 meters. More information on where you pick up or return your rental car can be found on your order/ voucher information after you made your reservation. All companies have their own offices where you pick up keys etc. Are you planning to, or are you flying to/from, and will be using Alicante-Elche El Altet Airport on your holiday or trip? Here you can find information, maps, weather, contact information and airport information. Centro Comercial Puerta de Alicante and Gran Alacant Centro Comercial are nearby the airport if you want to shop or are looking for tax-free goods. They are within 3 km. Bus stations and bus stops for buses near the airport are Shuttle Direct.
Closest train stations are Torrellano, San Gabriel and Alicante Railway Station. If you arrive or will continue travelling by train, they are all within 4 km. Hotels and lodging that are close to the airport are Hostal Pensimar, Areca, Oasis Plantio Golf, Hostal La Posada and Apartamentos Be Live Plantio Golf, if you need somewhere to sleep on your journey there or home. They are all within 3 km. Nearby there are also car rental companies like Autoclick on Carretera Torellano Al Aeropuerto Km1 Torre del Pla, Pulsar on Carretera de Torrellano Al Aeropuerto Torre del Pla, New Econorent on Carretera Nacional 338 Km 250 Laltet, Wiber on Carretera de Torrellano Al Aeropuerto Torre del Pla, Wiber on Torre del Pla, OK on Carretera de Torrellano Al Aeropuerto Elx, Europcar Base de Mantenimiento on Elx, Campa Sixt on Carretera de Torrellano Al Aeropuerto Elx, Drivalia on Ctra Aeropuerto Torrellano S N Torre del Pla, Rampa Europcar on N 338 Elx, Avis Campa, Wiber on Carretera Aeropuerto Torrellano S N Junto A Rotonda Torrellano Torre del Pla, Avis on Aeropuerto de Alacant, OK on Crta Aeropuerto Torrellano S N Elx, Goldcar Base de Mantenimiento, Victoria Cars on Partida Altet 2136b.
Car hire companies and car rental at Alicante-Elche El Altet Airport (ALC), Spain
To find the best price, compare the following companies Cooltra Scooter, Hertz Dream Collection, Surprice, Thrifty, Budget, CICAR, Class Rent a Car, Atesa, Dollar, National, Dickmanns, Nomadcar, Drivalia, Sixt, Hiper Rent a car, Wiber, Autos Menorca, Delpaso, Orlando, Orcar Canarias, Autos Valls, King rent, OK Rent a Car, Canarias.com, Centauro, InterRent, Europcar, AutoReisen, Marbesol, TopCar, La Palma 24, Autoclick, Malco Rent a Car, Owners Cars, Keddy By Europcar, Maggiore, Enterprise, Flizzr, Alamo, Hertz, Faycan, Avis, Goldcar, Record, Autos Aguirre, Solmar, Rhodium, Niza, ClickRent and Firefly at autospain.co.uk in Spain.
Car Hire & Rent a Car Alicante-Elche El Altet Airport Customer Reviews & Feedback