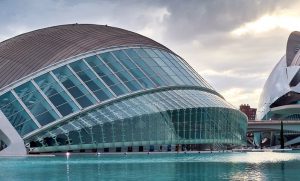 Compare rental cars and renting of a vehicle from several companies in the city, Valencia in Spain. We compare large companies as well as small and find the best price for all types of cars.
Car hire at Valencia's airports like Valencia Airport and Castellón–Costa Azahar Airport, VLC, train stations (Valencia North Railway Station, Railway Station Valencia, Valencia Sant Isidre Station, Valencia-Cabanyal, Estación de Empalme, Xirivella-Alqueries and Alfafar-Benetusser) and travel centres etc and ferry terminals and ports (La Marina of València). We can offer a car hire service where every cost is included. There are no hidden fees or free cancellations/amendments up to 24 hours before you are supposed to pick up the car. An easy, straight forward and safe search for car hire online. With our search engine, you only need to write the name of the city, place etc. and you will immediately get a list of choices. We compare these companies in this city or in; Valencia, Budget on Calle San Vicente Martir N 186 Estación del Ave, Wificar on Plaza Manuel Sanchis Guarner 1 Hotel Senator, Ace Union on Carrer de Jumella 14, Budget on Carrer de Sant Vicent Màrtir 186, Europcar Estación de Tren on Estacion Ave Carrer de Sant Vicent Màrtir 171, Alamo on Estación de Tren Carrer de Sant Vicent Màrtir, Alamo Enterprise National, Hertz on Carrer de Sant Vicent Màrtir 188 190, National on Estación de Tren Carrer de Sant Vicent Màrtir, Goldcar on Carrer de Sant Vicent Màrtir 170, ACE on Carrer de Sant Vicent Màrtir 170, Enterprise Estacion de Tren on Estacion de Tren Ave Carrer de Sant Vicent Màrtir 171, Thrifty on Carrer de Sant Vicent Màrtir 188, Multirent on Carrer de Linares 16, Avis on Ave Carrer de Sant Vicent Màrtir 186, Sixt on Carrer de Sant Vicent Màrtir 190.
Valencia (Valencia – València, Valentzia, València, Valence) is a city in the municipality, Valencia, Valencia region, Spain. It is the county seat in the region. 1th largest city/town when it comes to inhabitants in the region and the 3th largest district/town in Spain. Smaller communities, villages and suburbs nearby are Chiva, Nules, Godella, Alginet, Benifaió, L'Alcúdia, Alberic, El Carmen, Fuente de San Luis, Campanar, Benimaclet and Beniferri. The community and town is about 15 meters above sea level. With about 814 200 (2015) inhabitants. Castellón de la Plana (c. 180000 pop), Gandia (c. 80000 pop), Torrent (c. 78500 pop) and Sagunto (c. 66100 pop) are other larger communities, cities nearby. Read more about what the city has to offer when it comes to experiences and which companies are located in Spain and Valencia. These metro (subway) stations are located in the city Alfauir, Alboraya-Peris Aragó, Burjassot, Paiporta, Campament, Godella and Paterna. Bus stations and bus stops in the city are Aeropuerto Valencia-Manises. We also give tips on which companies offer rental cars in Valencia.
Tips and suggestions on places, events, activities, museums, attractions, experiences and tips on destinations you can visit during your stay in Valencia, can be found here. Malls like Aqua, Bonaire, Centro Comercial Las Américas, The Central Market of Valencia, Centro Comercial Bonaire Aldaia, Centro Comercial Gran Turia, Centro Comercial El Manar, Arena Multiespacio, MN4 Centro comercial Alfafar and Centro Comercial Factory Bonaire are close by if you want to do some shopping. Castell d'Alaquàs are exciting, older, magnificent buildings such as mansions and palaces nearby. Castell d'Albalat dels Sorells and Castillo de (Castle) betera are new as well as old beautiful castles to see and they are located in the town centre. Markets such as Market Catarroja Martes are located nearby.
Karting Valencia Luis Climent, Bioparc Valencia, L 'Oceanogràfic and Karting La Pobla are water parks, amusement parks or theme parks nearby. If you are craving for activities and experiences with your children. Want to spend a day watching animals? Zoos, aquariums, tropicariums, terrariums, tropical houses and safari parks that are nearby are Valencia Zoo. The Medieval Tower, Llotja de la Seda, Pont del Mar and Torres de Serranos are fascinating historical sites and attractions with archaeological value close to Valencia. Make a visit to these historical ruins and places, Ruinas Castillo del (Castle) Puig. For opera, music and other cultural experiences a visit to Palau de les Arts Reina Sofia, can be recommended. Plaza de Toros de (Bullring) Valencia, these amphitheatres are located close to the centre of Valencia. Music, plays and shows in the town centre? We recommend Auditorium of Molí de Vila, Escalante, Theater Infantil, Auditorium of Alboraya, Cultural Center of Mislata, Auditorium of Municipal, Ciudad de las Artes y las Ciencias, Theater Olympia, Theater Rialto, Theater L'Agrícola, Theater Flumen and Espacio Inestable. Located within walking distance.
Gardens of Real, Gardens of Túria, The botanic garden of the Universidad de Valencia and L'Umbracle are located in the city if you want to experience parks and gardens recommended by us. Relaxing and beautiful green areas, parks and plantings worth seeing are Pablo Iglesias, Gulliver kids park, Park Benicalap and Park la Canaleta. Beautiful churches or cathedrals not far away are Iglesia San Juan del Hospital, Church of San Martín and San Antonio, Church of San Agustín and Church of Santo Tomás Apóstol y San Felipe Neri. You can gamble for money at a casino on Black Jack or Roulette at e.g. Casino Cirsa Valencia. Do you want to gamble on horses? For instance horse racing or harness racing.Or do you want to watch motor sports? These Valencia Street Circuit and Velòdrom Silla are located within a walking distance. Swimming and sun bathing on the beach? You can do that on Malvarrosa Beach, Playa de Pinedo, Playa de Nazaret and Las Arenas beach. Take a trip with your car and make a visit! Costa de Valencia are the coasts nearby.
See the town's team play or practice? Close to the city, the Peñacañada Club de Campo, Club de Tenis El Collao and TenisVal is located. Close to the town centre, the Mestalla Stadium, Nou Mestalla, Pavelló Font de Sant Lluís, Velódromo Luis Puig and Estadi del Llevant's are located. See the different teams in town play or are you craving some football? Or want to see a concert? Centres and areas for recreation and activities are Casa de Cultura de Manises, Casa de Cultura de Picassent and City of Arts and Sciences, which are located close to the town centre. Are you going on a golf trip and looking for golf courses? The golf courses, Masia de las Estrellas Club de Golf 7 km, Club de Golf Manises 10 km and Club de Golf Escorpion 14 km, are located close to the city. National Museum of Cerámica y Artes Suntuarias González Martí, Casa-Museo José Benlliure, Museum of Ciencias Naturales, The Museum of Geology, Museum of Fine Arts of Valencia, Museum of les Ciències Príncipe Felipe, Gallery of Arte Rosalia Sender, Valencia Museum of History, Museum of Patriarca, Patio de los Silos and MuVIM are located nearby. Maybe a day at the museums and art galleries of the town? Hospital de los Pobres Inocentes, Real Colegio Seminario del Corpus Christi, Tower of Paterna and Pont del Moro are exciting statues and monuments of famous people and events. Plaza de la Reina, Plaça d'Hondures, Plaza de la Verge, Plaza Redonda and Plaça de l'Ajuntament are notable squares or large open spaces close by in the central parts of town.
Car hire in airports nearby
Car hire in airports nearby: Rent a Car Valencia Airport and Castellón-Costa Azahar Airport.
Car rental companies in Valencia, Spain
When you are looking for rental cars we compare these companies; Enterprise, Goldcar, Orcar Canarias, InterRent, Thrifty, Faycan, Record, Orlando, Alamo, Hertz, Centauro, Class Rent a Car, Keddy By Europcar, Surprice, Hertz Dream Collection, Nomadcar, Solmar, King rent, Autos Valls, Autoclick, Budget, Sixt, AutoReisen, Marbesol, Niza, Canarias.com, Atesa, Europcar, National, Avis, TopCar, Firefly, Dollar, Owners Cars, Rhodium, Hiper Rent a car, Dickmanns, Cooltra Scooter, ClickRent, Drivalia, Wiber, Maggiore, Delpaso, Autos Menorca, OK Rent a Car, La Palma 24, Autos Aguirre, Malco Rent a Car, CICAR and Flizzr, all with offices on site or in the region. You can usually find the largest selection at airports such as Valencia Manises Airport and Castellón-Costa Azahar Airport. The large companies usually have offices adjacent to the airport.
Car Hire & Rent a Car Valencia Customer Reviews & Feedback