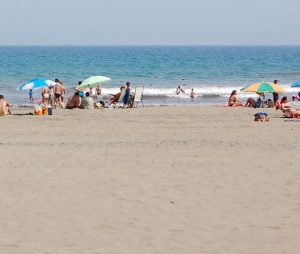 Comparison of rental car prices and car hire from several businesses in the town Bahia Feliz in Spain. Find the best prices for rental cars. It always pays off to compare before you book, in some smaller communities local companies can have very competitive prices.
Rental cars are available at Bahia Feliz's travel centre, train stations and airports like Gran Canaria Airport. A car hire service where every cost is included, no hidden fees and free cancellations/amendments up to 24 hours before you pick up the car. Easy and safe online booking of rental cars. Search for a city, airport etc. and choose a pick up place. To find the best price we compare following companies Avant on Calle Las Dalias San Bartolomé de Tirajana, Orlando S A on Lugar Bahía Feliz, Autos Báez Canarias on Local 16 C C San Agustin Calle Dalias in Bahia Feliz.
Bahia Feliz is a town in the municipality Las Palmas, Canary Islands region, Spain. 104th largest city/town when it comes to inhabitants in the region and the 6529th largest town/district in Spain. The community and town is about 6 meters above sea level. With a population of around – people in 2015. Vecindario, Guia, Teror, Puerto Rico, Valsequillo de Gran Canaria, Tarajalillo, San Agustin, Juan Grande and Castillo del Romeral are smaller suburbs, villages and communities nearby. Regardless of how long you are staying the town there are things to experience and do. Las Palmas de Gran Canaria (c. 381800 pop), Telde (c. 100000 pop) and Santa Lucía (c. 63600 pop) are other larger communities, cities nearby. We also give tips on which companies offer rental cars in Las Palmas.
Tips and recommendations in Bahia Feliz on activities, museums, experiences, attractions, places, events and destinations you can visit during your trip. Bodegas Tunte and Bodega Las Tirajanas are vineyards and wine producers that are close by. Wine tour and tasting in Spain? Golf trip and need to rent a car? Salobre Golf & Resort 12 km, Meloneras Golf 10 km and Campo de Golf Maspalomas 8 km are some golf courses that are close to the community. Iglesia Sueca are notable churches or cathedrals close by.
Do you want to do some shopping? The large malls in the city are e.g. Centro Comercial San Agustín. Necropolis of Arteara and Fortress of Ansite are fascinating historical sites and attractions with archaeological value close to Bahia Feliz. Exciting antiquities, cultural heritage, ancient relics and older buildings that could be worth seeing are Archaeological site of Llanillo. Viewpoint of Ingenio de Santa Lucia, Degollada de La Yegua and Viewpoint Hotel Riu Maspalomas are observation points located in the city, from where you can get a complete overview of the town. Sioux City are relaxing green areas, park and plantings if you want to relax and have a picnic on the grass. Gran Karting Club, Palmitos Park and Zona Recreativa El Ratiño are water parks, amusement parks or theme parks nearby. If you are craving for activities and experiences with your children. Cocodrilo Park are tropicariums, tropical houses, zoos, aquariums, safari parks and terrariums that are nearby. A day for relaxing and sunbathing on the beach at Playa de San Agustín, Playa de Tarajalillo, Playa de las Burras, Playa del Cardón, Playa El Veril and Playa del Águila. They are all close to the town.
Nearby destinations, Bahia Feliz
Car hire in airports nearby: Cheap Car Hire Gran Canaria Airport. Car rental in nearby cities: Rental Cars San Agustin, Playa del Ingles, Maspalomas, Meloneras and Vecindario. Rent a car in cities in the region: Compare Rental Cars Las Palmas de Gran Canaria, Santa Cruz de Tenerife, San Cristóbal de La Laguna, Telde and Arona.
Car rental companies in Bahia Feliz, Spain
Avis, Hertz, Europcar and Budget are the companies we compare in Bahia Feliz. You can usually find the largest selection at airports such as Gran Canaria Gando Las Palmas Airport. The large companies usually have offices adjacent to the airport.
Car Hire & Rent a Car Bahia Feliz Customer Reviews & Feedback