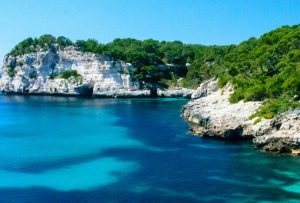 Compare and find good prices from several companies in the country. Choose and compare large companies as well as small ones. Safe encrypted payment. autospain.co.uk compares rental car prices and car hire from several companies on the island Minorca in Spain, and finds the best prices on rental cars. Closest cities are Sant Lluís, Mahon, Ciutadella, Es Castell, Ferreries and Alaior.
Car rental where every cost is included, no hidden fees and free cancellations/amendments up to 24 hours before you are supposed to pick up the car. Easy and safe online booking of rental cars. Rental cars at Minorca's ferry terminals and ports (Puerto Antiguo de Ciutadella de Menorca, Puerto Deportivo Cala'n Bosch, Mahon Ferry Port, Fornells Port, Minorca Ferry Port, Ciutadella Port and Port d'Addaia), travel centres, train stations and airports (Menorca Airport). Choose between different locations where to pick up your car. You can rent through us where the companies have their offices. Malco Rent a Car, Thrifty, Niza, InterRent, Orlando, Class Rent a Car, Delpaso, Owners Cars, Alamo, Centauro, Maggiore, Record, Orcar Canarias, Faycan, Avis, Rhodium, Solmar, Goldcar, King rent, Dollar, Nomadcar, Dickmanns, Budget, Autoclick, AutoReisen, Enterprise, ClickRent, Autos Aguirre, La Palma 24, Drivalia, Keddy By Europcar, Autos Valls, Firefly, Canarias.com, Sixt, Atesa, Autos Menorca, OK Rent a Car, National, Hertz, Hertz Dream Collection, Surprice, Cooltra Scooter, TopCar, CICAR, Flizzr, Hiper Rent a car, Europcar, Marbesol are the companies we compare on the island. Compare the number of days you want, week, weekend, rent for a day, a year, a whole month or a long-term. Use a rental car for a tour of the island and drive at your own pace.
Information about Minorca (Menorca Island, Menorca). An island located in the municipality of Balearic Islands, in the Balearic Islands region, in Spain. About 94 400 (2015) inhabitants live on the island. Small villages, towns and suburbs that are close by are Sant Lluís, Mahon, Ciutadella, Es Castell, Ferreries and Alaior. Use the search box to find suitable pick up places on the island for your car. If you are looking for more things to do and experience on Minorca there is more information and details under each city. Nearby cities/communities are e.g. Ciutadella (c. 29200 pop), Mahon (c. 29100 pop), Alaior (c. 8700 pop), Es Castell (c. 7400 pop), Cala Ratjada (c. 6200 pop) and Sant Lluís (c. 5900 pop) etc. Majorca, Illa Dragonera, Illa Pedrosa, Illa des Conills, El Pantaleu, Cabrera, Isla del Pinto, Illa del Sec and Es Malgrats etc. are islands that are close by. If you plan to take the car on a ferry to other islands (Island Crossings) then check out the conditions during booking. There are limitations. Other names for this island are Minorca, Menorca, Menorca Island, Isla de Menorca.
Tips and suggestions on places, attractions, experiences and tips on destinations you can visit during your stay on Minorca. Are you looking for experiences and activities for the family? Splash Sur Menorca and Aqua Roc Water Park are theme parks, water parks or amusement parks close to or on the island. Swimming and sun bathing on the beach? You can do that on Cala Tirant, Cala Pregonda, Cala Macarelleta, Cala Macarella, Playa de Trebeluja, Platja de Cavalleria, Playa Talis, Playas de Fornells and Playa Cala Galdana. Take the car for a visit! Punta d'Atàlitx and Viewpoint of Vermells are viewpoints located on the island, where you can get an overview of Minorca. Toro are among the highest mountains near or on the island. Do you want to spend a day on a golf course during your stay on the island? The golf courses, Club de Golf Son Parc, are located close to or on the island. Vineyards and wine producers on or close to the island are, for example, Bodegas Celler Solano de Menorca, Hort Sant Patrici, Menorquinas, Destilerías Xoriguer and Bodegas Binifadet, if you are planning a wine tour and tasting in Minorca.
Destinations on Minorca
Find the best car hire and cheapest car rental in airports nearby: Cheap Hire Cars Menorca Airport. We allows you to quickly and easily compare results from hundreds of car rental sites at once. Find the cheapest car rental & best car hire in nearby cities: Compare Car Rental Manacor, Compare Hire Cars Ciutadella, Cheapest Rental Cars Mahon, Alcúdia and Felanitx. Easy and safe online booking of rental cars in Minorca. Rent a car on islands nearby: Cheapest Hire Cars Majorca, Car Hire Ibiza, Cheap Car Hire Isla del Aire, Isla Colom and Illa de Tagomago.
Car hire companies we compare on Minorca, Spain
To find the best all-inclusive price for a car on Minorca, autospain.co.uk compares, amongst others, the following companies King Rent, Dickmanns, Autoclick, Autos Aguirre, Cooltra Scooter, Thrifty, Niza, Malco Rent a Car, Surprice, Avis, Delpaso, Enterprise, Goldcar, Orcar Canarias, Hertz, La Palma 24, Keddy By Europcar, Maggiore, Wiber, AutoReisen, Atesa, Orlando, Class Rent a Car, OK Rent a Car, Marbesol, Europcar, Dollar, Drivalia, ClickRent, Record, Sixt, Faycan, Firefly, Hertz Dream Collection, TopCar, Canarias.com, Solmar, InterRent, Budget, Hiper Rent a car, Key and Go, CICAR, Owners Cars, Autos Valls, Flizzr, National, Centauro, Alamo, Nomadcar, Rhodium and Autos Menorca.
Van rental & Rent a Car Minorca Island Customer Feedback & Reviews