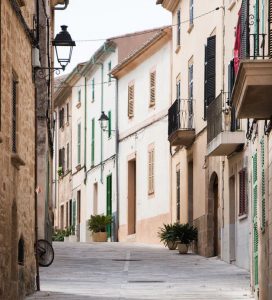 Comparison of rental car prices and car hire from several businesses in the town Alcúdia in Spain. Find the best prices for rental cars. It always pays off to compare before you book, in some smaller communities local companies can have very competitive prices. Rental cars are available at Alcúdia's travel centre, train stations and airports like Palma de Mallorca Airport and Menorca Airport and ferry terminals and ports (Marina of Bonaire, Alcudia Port). A car hire service where every cost is included, no hidden fees and free cancellations/amendments up to 24 hours before you pick up the car. Easy and safe online booking of rental cars. Search for a city, airport etc. and choose a pick up place. We compare these companies in Alcúdia or in Balearic Islands, Europcar on Flamencs S N Edf Segay Playa de Muro, Europcar on C Pedro Mas Reus Urb Lago Menor Bellevue I, Sixt Puerto on Carretera Dartà 7 Palma, Avis on Avenue Avinguda de Nicolau Riera Marsà 1, Budget on Avenida Nicolau Riera Marsa 1.
Alcúdia is a town in the municipality, Balearic Islands, Balearic Islands region, Spain. Is a locality in the area. 12th largest city/town when it comes to inhabitants in the region and the 495th largest district/town in Spain. The community/city is located about 19 MASL. Soller, sa Pobla, Santanyí, Son Servera, Capdepera, Santa Margalida, Coll d'en Rabassa, es Barcarès, Port d'Alcudia, es Mal Pas and Playa de Muro are smaller suburbs, villages and communities nearby. Palma de Mallorca (c. 401300 pop), Manacor (c. 40500 pop) and Llucmajor (c. 36100 pop) are other larger communities, cities nearby. About 19 100 (2015) inhabitants live in the town. Read more about what the town has to offer when it comes to experiences and which companies are located in Spain and Balearic Islands. We also give tips on which companies offer rental cars in Balearic Islands.
Wondering what there is to see and do in Alcúdia? Here are a few suggestions on activities, attractions, museums, events, destinations, places and experiences that are worth a visit during your holiday in the town. Wine tour and tasting in Alcúdia? Vineyards and wine producers that are close to the the town are, for example, Bodega Ramon, Familia Ramis-Fornés, Bodegas Xaloc, Vinyes Mortitx, Antonio Pons Beltrán, Bodegas Can Vidalet and Bodega Can Axartell. A day for relaxing and sunbathing on the beach at Caló des moro, Plataj des Coll Baix, Platja de Muro, Platja de Formentor, Platja de Alcudia and Playa Pollensa. They are all close to the town. Beautiful churches or cathedrals not far away are Church of Dios Ministerial de Jesucristo Internacional and Church of Sant Jaume d'Alcúdia.
Teatre Romà and Roman ruins of Pollentia are historical ruins of buildings and objects worth seeing and studying. Porta del Moll are old arches and arcs that could be worth seeing during your visit. Markets such as Alcudia Market are located nearby. You are welcome to visit old fortresses, strongholds and forts such as La Fortaleza Predio de Albercuitx. Are you going on a golf trip and looking for golf courses? The golf courses, Golf Pollensa 7 km and Club de Golf Alcanada 4 km, are located close to the city.
Get an overview of the whole city at Viewpoint Es Colomer which are located within walking distance from the town centre. Plaça de Toros, visit and experience culture at an amphitheatre close to the town centre. Visit Auditorium of d'Alcúdia to see and experience plays, music and shows in the town centre. If you want to visit a museum you can choose between Esglesia y Museum of Sant Jaume and Pollentia Museum – Museu Monogràfic de Pol.lèntia, which are within a walking distance from the town centre. If you crave activities and experiences and want to visit e.g. water parks, amusement parks or theme parks you can visit Karting can picafort, Kartingmania en el Hotel Bellevue and Hidropark. In the city, there are interesting monuments and statues of famous people and events like Murada Mediaval d'Alcúdia. Plaza Carles V, Plaça Safrà and Plaza de la Constitucio are notable squares or large open spaces close by in the central parts of town.
Nearby destinations, Alcúdia
Car hire in airports nearby: Rent a Car Palma de Mallorca Airport and Menorca Airport. Car rental in nearby cities: Car Hire Port de Pollença, Pollença, Can Picafort, Inca and Manacor. Rent a car in cities in the region: Car Hire Palma de Mallorca, Calvià, Ibiza Town, Manacor and Llucmajor.
Car rental companies in Alcúdia, Spain
Avis, Hertz, Europcar, Budget, Sixt and Thrifty are the companies we compare near Alcúdia to find the best price. You can usually find the largest selection at airports such as Palma de Mallorca Son Sant Joan Airport and Menorca Mahón Maó Airport. The large companies usually have offices adjacent to the airport.
Car Hire & Rent a Car Alcúdia Customer Reviews & Feedback