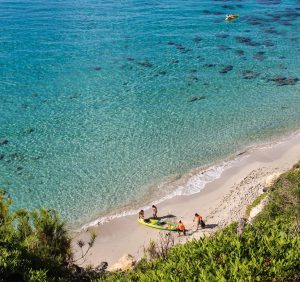 Menorca Airport, located on the island of Menorca. It is a small but beautiful airport situated on the Spanish island. You can find the airport a few kilometres from Menorca's city centre. To get from the airport to the city centre, you can rent a car on the spot or in advance through this website. The rental offices are located on the passenger terminal's levels 0 and 1. Information offices for companies that are located at the airport can be found in the arrivals hall.
The car rental offices are next to the baggage carousels on level 0 of the baggage claim area. SIXT, Europcar, Hertz, Thrifty, Avis, Budget, Alamo, Enterprise, and National are among the well-known rental firms that offer car rental to passengers. The offices are open from 7 a.m. to 24 a.m. Pre-ordering is possible through our online booking system.
We can offer car hire where every cost is included, no hidden fees and free cancellations/amendments up to 24 hours before you are supposed to retrieve the car. Easy and safe online search for rental cars. Rental cars you can pick up directly at the airport, Menorca Mahón Maó Airport. Look for a location and a choose destination in the list.
Large and safe or small and cheap? It pays off to compare before you book. Here you can compare rental cars and vehicle rent from several companies at Menorca Airport in -, Spain. Closest communities are Sant Lluís 4 km, Mahon 5 km, Es Castell 6 km, Alaior 10 km, Ciutadella 36 km and Cala Ratjada 67 km. Autospain.co.uk lists prices from companies that are safe and quality assured so that there will be no problems when you want to pick your car up. Airport code is IATA: MAH and ICAO: LEMH. To find the best price, compare the following companies Avis on Mah Carretera de Sant Climent, Hertz on Carretera de Sant Climent S N Maó, Budget on Carretera San Clemente, Alamo Cerrado on Aeropuerto de Mahon Maó, Interrent on Carretera de Sant Climent, Goldcar on Avinguda Deuropa 5 Maó, Sixt on Carretera de Sant Climent S N Maó, Europcar on Carretera de Sant Climent, Autos Valls on Carrer de Bajolí 68 Maó, Enterprise Cerrado on Aeropuerto de Carretera de Sant Climent, Owners Cars on Carretera de Sant Climent S N Maó, Owners Cars Puerto Mahón on Carrer de Luxemburg 18 Maó, Hertz on Airport Maó, Firefly on Carrer Dartrutx 21 Maó, Hertz Mahon on Poligono Industrial Poima Carrer de Bajolí 36, Thrifty on Ctra San Clemente S N Maó, Owners Cars on Avinguda Deuropa 9 Maó, National Cerrado on Aeropuerto de Maó at autospain.co.uk in Spain. Compare long-term rental for one day, one year, a whole month, week, weekend, or for as many days as you wish. Cargo van, fullsize, mini, standard, suv, jeep, estate, 5 seat minivan, moped, compact, economy, premium, luxury, convertible, intermediate, 9 seat minivan, minibus, 7 seat minivan, minivan and automatic transmission cars are car types and models that autospain.co.uk can compare prices on. Collect the car in one place and return it somewhere else, e.g. another city or country. It is possible to rent a car for one way, called the one way rental.
About Menorca Airport (Menorca Mahón Maó Airport) information, facts and data. There is only one terminal at the airport. The airport is four-story. The check-in offices are on the first floor (Planta 1), the Departures hall is on the second floor (Planta 2), and the VIP Lounge is on the third floor (Planta 3). To the Menorca airport you can get by these airlines: Iberia Air Europa, TUI Airways, Thomas Cook Airlines and Vueling. Barcelona, El Prat, Gatwick, Palma de Mallorca, Menorca, Barajas, and Manchester are the most essential air traffic destinations. The airport has been in operation since 1969, and the terminal was restored in 2008. It just has one terminal, but it is more than enough to ensure that you have a pleasant stay. Menorca's airport has a duty-free zone with all necessary shops, pharmacies, and postal and banking services for all travellers. And of course, it has a car rental zone, where a lot of companies have a lot of cars to offer you.
The airport is in the municipality of Balearic Islands, in the Balearic Islands region, in Spain. The airport is located above sea level by 298 feet/91 meters. Other names for this airport could be Minorca Airport, Aeropuerto de Menorca – Mahón, Aeroport de Menorca – Maó, Menorca Mahón Maó Airport, Aeropuerto de Menorca, Mahón Airport, Menorca Airport, International. Manacor 92 km (c. 40500 pop), Ciutadella 36 km (c. 29200 pop), Mahon 5 km (c. 29100 pop), Alcúdia 94 km (c. 19100 pop), Son Servera 78 km (c. 12200 pop) and Capdepera 69 km (c. 11900 pop) are the closest big cities. Need a place to sleep? Son Tretze, Rural Biniarroca, Binissafullet Vell, Refugi Biniati Vell and Apartamentos Binibeca Beach are examples of hotels and youth hostels close to the airport. They are all within 3 km. Are you planning to, or flying to/from, and will be using Menorca Mahón Maó Airport on your holiday or trip? Here you can find information, maps, weather, contact information and airport information. More information on where to you pick up or return your rental car, will be given after your reservation has been made. All companies have their own offices where you can pick up keys etc. On-site car rental companies include Okrentacar on Carrer DÀustria 11 Maó, OK on Polígono Poima Calle Austria 12 Maó, Ownerscars on Carrer Ditàlia 23 25 Maó, Autos Valls Canutells on Urbanitzacio Canutells, Autos on Avinguda Deuropa 9 Maó, Valls Autos Valls on Carrer de Bajolí 68 Maó, Sixt on Calle Curniola N 14 B Pol Ind Mahon Poima Maó, Hyperrentacar on Carrer Dartrutx 19 Maó.
Bus, Parking and Taxi
If you have decided to travel by bus, the number 10 bus connects the airport with Mahon, the island's capital, where it arrives at the bus station, from where you may travel anywhere on the island. From June 1 to September 30, the bus travels from 5.55 to 23.25 from Mahon airport. And from 5.45 to 23.15 from Menorca's capital to the airport (every half hour). From October 1 to May 30, you can go to Mahon between 5.55 and 20.55 and return between 5.45 and 20.45. (every hour).
A cab ride will cost you much more, and the price may vary depending of the time of day. The minimum cost of the trip will increase somewhat on weekends, holidays, and at night.
There is a parking lot in front of the airport that can accommodate hundreds of cars.
Car rental companies at Menorca Mahón Maó Airport (MAH), Spain
Nomadcar, InterRent, Sixt, CICAR, Malco Rent a Car, Class Rent a Car, Alamo, Hiper Rent a car, Hertz, Europcar, Cooltra Scooter, Drivalia, Autos Menorca, ClickRent, Firefly, Marbesol, Faycan, King Rent, Delpaso, Orlando, Orcar Canarias, Wiber, Budget, Flizzr, Surprice, TopCar, Solmar, Autos Valls, Atesa, Maggiore, Enterprise, Centauro, Dollar, Thrifty, Niza, Avis, Goldcar, Autos Aguirre, La Palma 24, Keddy By Europcar, AutoReisen, Rhodium, OK Rent a Car, Owners Cars, Autoclick, Dickmanns, Canarias.com, Key and Go, Hertz Dream Collection, Record and National are the companies we compare at/in the airport/country.
Van rental & Rent a Car Menorca Mahón Maó Airport Customer Feedback & Reviews