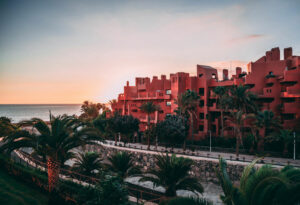 Compare rental cars and renting of a vehicle from several companies in the town, Costa Adeje in Spain. We compare large companies as well as small and find the best price for all types of cars.
Rental cars at Costa Adeje's train stations, travel centre and airports like Tenerife South-Reina Sofia Airport, La Gomera Airport and Tenerife North Airport and ports/ferry terminals like Puerto Colón and Port of Los Cristianos. We have an easy and safe booking system of rental cars online. Search and choose your destination, search for country, city etc. and choose from the list. A car hire service where every cost is included, no hidden fees and free cancellations/amendments up to 24 hours before you are supposed to pick up the car. Europcar on Los Cardones Building Playa America Avenida Rafael Puig Lluvina, Canarias Hotel Bahia del Duque on Hotel Bahia del Duque Avenida de Bruselas, Cicar los Cristianos on S N Estación Marítima de los Cristianos Arona, Orcar Canarias, Canarias Hotel Jardin Tropical on Calle Gran Bretaña S N Adeje, Autored S L Grupo Faycan Autos Faycan on Dream Hotel Noelia Sur Palya de Las Americas, Canarias H10 Adeje Palace on Playa la Enramada S N la Caleta Hotel H10 Palace Adeje, Canarias Rentacar Torviscas on Adeje Av Ernesto Sarti 10 C C Parque Royale, Canarias Travel Agency on Av Las Americas 7 C C Americas Plaza 26 Arona, Canarias Gran Hotel on Avenida de Bruselas 14, Canariass Disfruta Canarias on Avenida de Bruselas 46, Travel Canarias on Avenida Antonio Dominguez, Canarias Hotel Troya on Avenida Rafael Puig Lluvina 2 Adeje, Avia Car on Lugar la Enramada Caleta La are the companies we compare near Costa Adeje to find the best price.
Costa Adeje is located in the municipality Santa Cruz de Tenerife, Canary Islands region, Spain and is a town. It is the 104th largest town/city when it comes to inhabitants in the region and the 6529th largest city/district in Spain. Are you planning to stay for a long period and spend your holiday here? Then there are many things to do and experience. Santa Cruz de Tenerife (c. 222400 pop), San Cristóbal de La Laguna (c. 150700 pop) and Arona (c. 78600 pop) are larger neighbouring communities and cities. The community and town is about 46 meters above sea level. Has about – (2015) inhabitants. Small villages, communities and suburbs nearby are Santa Úrsula, Santiago del Teide, San Sebastián de La Gomera, La Victoria de Acentejo, El Sauzal, La Matanza de Acentejo, Lomo de Arico, Playa de Fanabé, Fañabé, Playa de las Américas, El Guincho and La Caleta. Bus stop? These stations and stops are located in the city, Aeropuerto Sur Salidas. On site there are car rental companies such as Avia Car on Calle Noelia Afonso Cabrera 4, Thrifty on Avenida de Bruselas 10, Plus Car on Avenida la Habana 4a Arona, Orlando Las Americas on Avenida Antonio Dominguez Playa de la Américas, Canarias Hotel la Siesta on Avenida Rafael Puig Lluvina 21, Avis on Avenida V Centenario 3, Plus Car on C C Villaflor Avenida de los Pueblos 29a, Hertz San Miguel Shopping Centre on Avenida de Bruselas 10, Canarias on Adeje Av de Bruselas 18 Edf Terrazas del Duque Loc 5, Niza Rent Coches Canarias on Av de Bruselas 14 C C el Duque 12 Adeje, Eurorent on Calle Venezuela 7 Playa de la Américas. Get some tips on local companies in Santa Cruz de Tenerife.
Some suggestions and tips on places, activities, events, attractions, museums, experiences and destinations in the town that are worth a visit during your holiday in Costa Adeje. Swimming and sun bathing on the beach? You can do that on Playa Torviscas, Playa de Fañabé, Playa de las Vistas, Playa El Duque, Playa de las Américas, Playa de Los Cristianos and Playa Barranaco del ingles. Take a trip with your car and make a visit! Costa Adeje are the coasts nearby. Near the city centre are possibilities for experiencing plays, music and shows at Piramide de Arona. Close to Costa Adeje there are castles worth seeing such as Castillo de (Castle) San Miguel and El Duque Castle.
Malls like Centro Comercial Parque Santiago, Centro Comercial San Eugenio, Centro Comercial Safari and CC Plaza del Duque are close by if you want to do some shopping. Spend a day tasting wine! Nearby wine producers and vineyards are, Finca Ecológica Alma de Trevejos, Chinyero, Reverón Wines and Tierras De Aponte, if you are planning a wine tour and tasting in Costa Adeje. Plaza Virgen del Carmen are notable large open spaces and squares which are located in the central parts of town. Karting Las Americas, Siam Park Tenerife, Karting Club Tenerife and Aqualand are theme parks, water parks or amusement parks nearby. If you are looking for experiences and activities for the family. Want to spend a day watching animals? Zoos, aquariums, tropicariums, terrariums, tropical houses and safari parks that are nearby are Camel Park, Jungle Park and Monkey Park.
You can gamble for money at a casino on Black Jack or Roulette at e.g. Casino Playa de las Américas. Do you need a car for a golf trip? Golf courses close to the community are Amarilla Golf Club 11 km, Golf del Sur 13 km, Golf Costa Adeje 4 km and Campo de Golf Las Americas 2 km. To see the whole Costa Adeje from an observation point, make a visit to Montaña de Guaza. Relaxing and beautiful green areas, parks and plantings worth seeing are Caldera del Rey. To see and experience sport, tennis etc. make a visit to an athletic field such as Tenis Club Miraverde and Outland Paintball. Watch the local team play? Or see a concert? Watch football? Close to the town centre are the Stadium Olímpico Municipal Antonio Domínguez.
Nearby destinations, Costa Adeje
Find the best car hire and cheapest car rental in airports nearby: Cheap rental cars Tenerife South Airport, Rent a Car Cheap La Gomera Airport and Rent a Car Tenerife North Airport. Compare long-term rental for one day, one year, a whole month, week, weekend, or for as many days as you wish in Costa Adeje. Find the cheapest car rental & best car hire in nearby cities: Compare Car Hire Playa de las Américas, Van Rental Los Cristianos, Cheapest Hire Cars Adeje, Arona and Playa Paraiso. Rent a car in cities in the region: Compare Rental Cars Las Palmas de Gran Canaria, Cheap Hire Cars Santa Cruz de Tenerife, Hire a Car San Cristóbal de La Laguna, Telde and Arona.
Car rental companies in Costa Adeje, Spain
When you are looking for rental cars we compare these companies; Avis, Hertz, Europcar and Budget, all with offices on site or in the region. You can usually find the largest selection at airports such as Tenerife South Reina Sofía Granadilla Airport, La Gomera Airport and Tenerife North Los Rodeos Airport. The large companies usually have offices adjacent to the airport.
Van rental & Rent a Car Costa Adeje Customer Feedback & Reviews