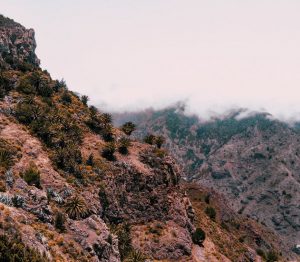 It always pays off to compare before you book, especially on rental cars. The price can differ very much between different companies. At autospain.co.uk you can compare prices on rental cars and car hire from several companies on the island La Gomera, Spain. Find the best prices for rental cars online. Closest cities are Los Gigantes, Guía de Isora, Hermigua, Alajeró, Vallehermoso and San Sebastián de La Gomera.
With a rental car, you can take a tour of the island without having to worrying about the time. Compare the number of days you want, week, weekend, rent for a day, a year, a whole month or a long-term. Car rental where every cost is included, no hidden fees and free cancellations/amendments up to 24 hours before you are supposed to pick up the car. Easy and safe online booking of rental cars. Rental cars at La Gomera's ferry terminals and ports (Puerto San Juan, Puerto Playa de Santiago, Port of Los Gigantes, San Sebastián de La Gomera Port, Puerto Valle Gran Rey and Puerto Colón), travel centres, train stations and airports (Tenerife South-Reina Sofia Airport and La Gomera Airport). Choose between different locations where to pick up your car. You can rent through us where the companies have their offices. TopCar, Thrifty, Centauro, Budget, Rhodium, Orcar Canarias, La Palma 24, Avis, AutoReisen, Dickmanns, Autoclick, Dollar, Canarias.com, Nomadcar, Atesa, Autos Menorca, Delpaso, Flizzr, Keddy By Europcar, King rent, Enterprise, Sixt, Class Rent a Car, Hertz Dream Collection, ClickRent, Autos Aguirre, Hertz, Orlando, CICAR, Goldcar, InterRent, Record, Drivalia, Surprice, Autos Valls, Faycan, Firefly, Solmar, Niza, Hiper Rent a car, Owners Cars, Marbesol, National, Cooltra Scooter, Malco Rent a Car, OK Rent a Car, Maggiore, Europcar, Alamo are the companies we compare on the island to find the best prices.
Facts about La Gomera. An island in the municipality Santa Cruz de Tenerife, Canary Islands region in Spain. The number of inhabitants is 22 000. Nearby cities/communities are e.g. Arona (c. 78600 pop), Adeje (c. 43200 pop), Granadilla de Abona (c. 40000 pop), Los Realejos (c. 37600 pop), Realejo Alto (c. 36000 pop), Icod de los Vinos (c. 24000 pop), Guía de Isora (c. 20500 pop), San Isidro (c. 19500 pop) and San Miguel De Abona (c. 16200 pop) etc. Isla de la Gomera, Gomera, La Gomera are other names for this island. Los Gigantes, Guía de Isora, Hermigua, Alajeró, Vallehermoso and San Sebastián de La Gomera are smaller suburbs, villages and towns that are close. Use the search box to find the pick-up place you want. Are you looking for more things to do on your vacation? You will find more info under each city on the island. Tenerife, Gran Canaria, La Palma Island, El Hierro and La Ballena, etc., are large and small islands located nearby. Driving between islands via ferry is usually not allowed (Island Crossings). Read more in the rental terms when you search before booking.
Suggestions on attractions, experiences, places and destinations that are worth a visit during your trip to La Gomera. Tecina Golf, Abama Golf and Golf Costa Adeje are golf courses located close to or on the island. If you would like to play some golf. Garajonay, Montaña Bilma and Alta Garaona are among the highest mountains near or on the island. Viewpoint of Sombrero, Viewpoint of Los Roques and Viewpoint of Tajaqué are viewpoints located on the island, where you can get an overview of La Gomera. Chinyero are vineyards that are on or close to the island, if you are planning a wine tour and tasting in Spain. Are you looking for experiences and activities for the family? Aqualand, Karting Las Americas and Siam Park Tenerife are theme parks, water parks or amusement parks close to or on the island. Montañas Negras are active or inactive volcanoes located close to the region. Playa La Puntilla, Argaga, Playa de El Cabrito, Playa Valle Gran Rey, Playa de las Salinas, Playa de la Arena, Playa de Santiago, Playa San Sebastián and Playa de Vallehermoso are beaches nearby if you want to relax and bask on the beach.
Destinations on La Gomera
Car hire in airports nearby: Car Rental La Gomera Airport, Tenerife South Airport, El Hierro Airport, La Palma Airport and Tenerife North Airport. Car rental in nearby cities: Car Rental Santa Cruz de Tenerife, San Cristóbal de La Laguna, Arona, Adeje and La Orotava. Rent a car on islands nearby: Rental Cars Tenerife, Gran Canaria, La Palma and El Hierro.
Car hire companies we compare on La Gomera Island, Spain
When you are looking for a rental car on La Gomera, autospain.co.uk compares, for example, these companies: Marbesol, AutoReisen, Hertz, Drivalia, King rent, Autos Menorca, Avis, TopCar, Budget, Keddy By Europcar, Solmar, Sixt, Delpaso, Rhodium, National, Niza, Maggiore, Wiber, Orcar Canarias, Orlando, Alamo, Class Rent a Car, Flizzr, Surprice, Hertz Dream Collection, Dickmanns, Cooltra Scooter, InterRent, Centauro, La Palma 24, Canarias.com, OK Rent a Car, Autoclick, Malco Rent a Car, Thrifty, Faycan, Nomadcar, CICAR, Autos Valls, Hiper Rent a car, Firefly, Record, Europcar, Autos Aguirre, Enterprise, Goldcar, Atesa, Dollar, ClickRent and Owners Cars.
Car Hire & Rent a Car La Gomera Island Customer Reviews & Feedback