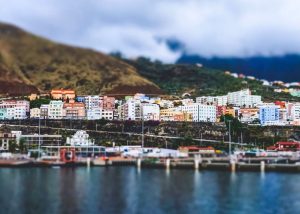 We can offer car hire where every cost is included, no hidden fees and free cancellations/amendments up to 24 hours before you are supposed to retrieve the car. Easy and safe online search for rental cars. Rental cars you can pick up directly at the airport, La Palma Mazo Airport. Look for a location and a choose destination in the list.
Large and safe or small and cheap? It pays off to compare before you book. Here you can compare rental cars and vehicle rent from several companies at La Palma Airport in Santa Cruz de La Palma, Spain. Closest communities are Breña Alta 4 km, Santa Cruz de La Palma 6 km, El Paso 13 km, Los Llanos de Aridane 16 km and Garachiko 17 km. Autospain.co.uk lists prices from companies that are safe and quality assured so that there will be no problems when you want to pick your car up. Airport code is IATA: SPC and ICAO: GCLA. Collect the car in one place and return it somewhere else, e.g. another city or country. It is possible to rent a car for one way, called the one way rental. 9 seat minivan, minibus, moped, mini, luxury, cargo van, premium, fullsize, estate, intermediate, standard, economy, compact, suv, jeep, convertible, 5 seat minivan, minivan, 7 seat minivan and automatic transmission cars are car types and models that autospain.co.uk can compare prices on. When you are looking for rental cars, compare these companies Pepecar on Playa de los Cancajos Oficina Hertz, Top Car Autoreisen The Palm, Thrifty on Villa de Mazo, Thrifty Villa de Mazo on S N Villa de Mazo, Autored S L Grupo Faycan Autos Faycan on Hotel Taburiente Playa Playa de los Cancajos S N Breña Baja, Budget España on Villa de Mazo, Avis on Calle Molinos de Viento 0 Villa de Mazo, Hertz on Villa de Mazo, Hertz on Ctra la Bajita S N Villa de Mazo, Orlando on Travesía de los Cancajos 21 38712 Breña Baja Santa Cruz de los Cancajos, Cicar on Terminal de Llegadas 38738, Avis La on S N, Avis Cruceros, Sixt on Santa Cruz, Europcar at autospain.co.uk, all with offices in Spain. Compare the number of days you want, whether that be a week, weekend, rent for a day, a year, a whole month or a long-term rental.
Facts, information and data about La Palma Airport (La Palma Mazo Airport). The airport is in the municipality of Santa Cruz de Tenerife, in the Canary Islands region, in Spain. La Gomera Airport and El Hierro Airport are nearby airports. Closest big cities and communities are Los Llanos de Aridane 16 km (c. 20800 pop), Santa Cruz de La Palma 6 km (c. 17100 pop), San Sebastián de La Gomera 87 km (c. 9000 pop), Breña Alta 4 km (c. 7100 pop) and El Paso 13 km (c. 7100 pop). La Palma Mazo Airport, Aeropuerto de Palma, La Palma Airport, International are alternative names. The airport is located about 107 feet/33 meters AMSL. If you are planning or will be flying to/from, and use La Palma Mazo Airport, you will find information about the airport, maps, contact information and the weather here. You will find accurate information about where to pick up and/or return your car on your order/voucher. All rental car companies have their own offices where you pick up keys etc. Lodging and hotels that are close to the airport are, e.g. Hotel Las Olas, Apartamentos La Caleta, Hotel Finca Arminda and El Cerrito. All hotels are within 3 km from the terminals.
Car hire companies and car rental at Santa Cruz de La Palma Mazo Airport (SPC), Spain
To find the best price, compare the following companies Nomadcar, InterRent, Flizzr, Autos Menorca, Hertz Dream Collection, La Palma 24, Alamo, Hiper Rent a car, Hertz, Europcar, Autos Valls, Drivalia, AutoReisen, Maggiore, Firefly, Solmar, Faycan, National, TopCar, Record, Autoclick, Wiber, Budget, Niza, Rhodium, Canarias.com, Delpaso, Orcar Canarias, Atesa, OK Rent a Car, Enterprise, Centauro, Dollar, Marbesol, Autos Aguirre, Avis, Goldcar, Cooltra Scooter, CICAR, Keddy By Europcar, Malco Rent a Car, Class Rent a Car, Owners Cars, Sixt, Surprice, Dickmanns, King rent, ClickRent, Thrifty and Orlando at autospain.co.uk in Spain.
Car Hire & Rent a Car Santa Cruz de La Palma Mazo Airport Customer Reviews & Feedback