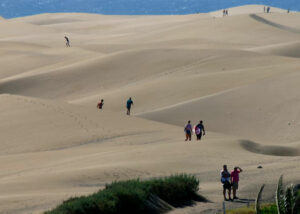 Maspalomas is the main Gran Canaria city located in the South. It is also the most popular place here for resorts and hotels. Therefore, it is a great city to consider for Gran Canaria Excursion. Even more, Maspalomas has a lot to offer for its every visitor as well.
Best things to do in Maspalomas
Here we have some of the best things that you must do in Maspalomas to have more fun here. So, here we go:
Visit Maspalomas Dunes
Whenever we think about visiting Maspalomas, the first thing that pops up to mind are those beautiful Maspalomas dunes that can make you feel like you are in the middle of a desert. Even though you can admire Maspalomas dunes from afar, but exploring the area is worth considering. It is mainly because it is amazingly beautiful.
Go to Maspalomas lighthouse
Visiting the Maspalomas lighthouse can give you a lovely experience especially in the evening. It is because in the evening you can easily stroll on the beach while admiring the beautiful sunset. Most importantly, the lighthouse itself is very impressive. Even more, there are various cafes, shops, and restaurants to have drinks while admiring the beautiful views.
Spend some quality time at Maspalomas Beach
Maspalomas Beach is one of the most famous beaches in the city. Visitors can enjoy the beauty and comfort of the beach all day long by paying for umbrellas and sunbeds. However, when you go to the beach to enjoy yourself, take care, because sometimes the waves can be high.
Holiday World theme park
This is one of the most famous Gran Canaria amusement and theme parks to visit in Maspalomas. Here you can enjoy an amazing range of open-air opportunities along with being a part of the biggest funfair of the Gran Canary Island. So, spending a great day in the Holiday World theme park must be on your bucket list.
Enjoy windsurfing
Maspalomas is one of the best destinations to windsurf in the world. It is because the city offers great windsurfing opportunities for its visitors with warm water and air along with trade air that is highly suitable for windsurfing. Here you can find various destinations to enjoy windsurfing and have fun with ease.
Visit Yumbo Center
This place is nightlife and fun's epic centre in Maspalomas. The place was opened in October 1982. Since its opening, it became the most popular Gran Canaria shopping center. The complex is including more than 200 businesses, green areas, and a park along with the main plaza where all the parties and events take place.
Car rental and driving in Spain
Rent a car is the most convenient way to wander around Spain. Even more, driving in Spain isn't difficult. So, if you are fulfilling driving requirements in Spain, you must go for a cheap car rental.
To make a selection from available car rental companies easier you should compare car rental available in Spain. It is because with car rental comparison you can find better rental cars options.