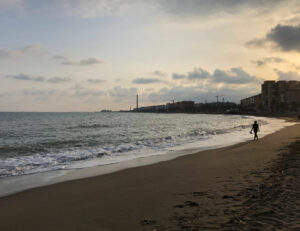 Costa del Sol, or the Coast of the Sun, as Malaga's stunning coastline is known worldwide, is one of the most popular tourist destinations for beach lovers. If you want to enjoy the most renowned stretches of sea and sand in Spain, Malaga is the obvious number one choice. Located in the Andalucia region of southern Spain, Malaga is typically known for its long stretches of golden sand surrounded by lofty palm trees. These cosmopolitan beaches of Malaga sit along boarded promenades, and the shore front is colourfully dressed as parasols and water sports dot the beaches.
With so many beaches to check out, the best advice for any tourist is to rent a car. There are many car hire companies in Malaga, including Europcar, Marbesol, Avis, Centauro, Wiber, Firefly, Budget, SIXT, Hertz, and many others. You can easily compare car hire plans and offers as most of these car hire companies offer a variety of plans that will fit into anyone's budget. If you want a cheap car hire, you can do a car rental comparison before arriving in Malaga, or you can opt for an SUV rental car as well. You will find all major companies at the airport and in the city near the train station.
Here are the best beaches to explore in Malaga in your rental car.
1. Playa La Malagueta
Located in the city center, this is 1200 meters of dark golden sand that stretches along the shore. With palm trees dotting the beach and home of the Malagueta sculpture, this is the closest beach to Malaga's city center. So you can simply park your car rental at the city center and walk down to Malagueta Beach. There are many bars and restaurants nearby that offer some great local cuisines.
2. Playa de La Caleta
If you want to simply laze across the sandy shores or enjoy a dip in the azure Mediterranean sea, the Playa de La Caleta is the best beach for you. Set in an affluent coastal neighborhood of Malaga, this is one of the most cosmopolitan beaches of Malaga. You can enjoy a variety of water sports here.
3. Playa de el Palo
For those to want to visit a more peaceful beach, the Playa de El Palo is located among the quaint little fishing villages of Malaga. To reach here, simply drive east from the more urban beaches like Malagueta and La Caleta. El Palo is a quieter beach that has a sandy waterfront and serene azure waters. This beach is smaller than others, but it is the perfect place for those who want to relax and rejuvenate.
4. Playa Peñón del Cuervo
The Cuervo Beach is best for those who want a quiet atmosphere, with fewer beach bars, and want to simply relax in the serenity of the sand. This beach is famous for the rock (penon) that rises above the sea and separates this 45- meter small beach into two parts.
5. Playa de la Misericordia
There is a beach for everyone in Malaga. The Playa de la Misericordia is best for those who want to indulge in surfing. Drive your cheap car rental southwest from the city center of Malaga to reach this two-kilometer-long beach known for its dark golden sandy shores.