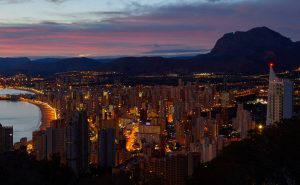 Stunning beaches, skyscrapers, majestic mountains, and perfect weather all year round are what greets you when you arrive in Benidorm. Benidorm is best known for some of the most beautiful beaches across Costa Blanca. Anyone who visits Benidorm leaves with an experience of a lifetime. Located right next to Alicante in the Costa Blanca region, Benidorm is a stunningly beautiful city, with a backdrop consisting of rocky cliffs and high rises and recognizable crescent-shaped beaches.
Before you set off on your journey across the beautiful town of Benidorm, it is a great idea to rent a car. Having a car rental lets, you tour around the city and also go from one town to the next without worry. There are many car rental companies in Benidorm, and you can easily do a car rental comparison before selecting a rental car that fits your budget. You can ask your travel agent or hotel to compare car rental prices for you. There are many cheap car rentals offers you will get across Spain, and you can select from a wide variety of rental cars. In Benidorm there are companies such as Budget, Hertz, Europcar, Sixt, Avis, National and Thrifty etc.
Here are the top things to do in Benidorm in your rental car.
1. Check out the beaches
One of the best things to do in Benidorm is to relax at the beautiful sunny beaches. There are many beaches to choose from, with the most popular one being the Playa de Levante. This beach creates the perfect picture of what Benidorm is all about, with the vast turquoise waters spread out in front, a gigantic crescent of sand, and the city's towering skyscrapers in the backdrop. However, the Playa de Levante gets super crowded in the summers, and it becomes difficult to even occupy a spot for yourself to sunbathe.
If you want a quieter and more relaxed beach, head over to the Playa de Poniente. The Poniente Beach is sprawled over six kilometres, and it is a paradise made of golden sand. There are many boardwalks sitting behind this beach, and it is the perfect spot for afternoon or evening walks. Several shacks selling snacks dot the beach.
2. Explore the Old Town of Benidorm
Before the town of Benidorm transformed into a city of skyscrapers, it used to be a quaint little fishing town having tons of old-world charm. There are still some bits and pieces leftover from the city's past, and you can head over to Casco Antiguo or Benidorm's Old Town to explore the city's history.
The Old Town is located between Playa de Poniente and Playa de Levante, so you can make a day out at the beach and exploring the older part of the town. With beautiful stone arches, tiny cobblestoned lanes, and wrought-iron balconies with pretty flowers blooming all around, Benidorm's Old Town is the perfect place to spend an afternoon.
3. Walk around the Placa del Castell
If you want to truly experience the beauty and enigma of Benidorm, it is best to wander around the Placa del Castell. This is a bustling area of the city where you will find many musicians, vendors, and checkerboard tiles. This is the place where the Benidorm Castle once stood, so the entire area is full of history. You will find a big collection of restaurants and bars at Placa del Castell.