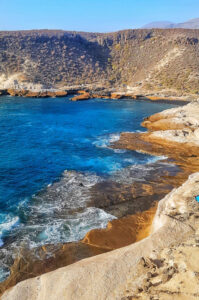 Costa Adeje is a place with several beaches. It is a part of the island of Tenerife which is situated on the Canary Island. If you are a beach lover you can find a great number of beaches here with all the beautiful aspects that you are looking for within a beach. Costa Adeje is famous for its beaches and water sport activities. You can get access to the water on a larger scale by visiting here on your next vacation.
It is convenient to rent a car for your guidance and convenience. Rental cars are available at the location which can make your travel easier. However, you should compare car hire. Car hire comparison will enable you to get an idea about the prices of the location.
Top 5 best beaches in Costa Adeje
We will discuss the five most famous and beautiful beaches in the beautiful location of Costa Adeje. You should not miss these beaches if you are planning to visit Costa Adeje anytime soon. Car hire can be a safer option especially if you are a visitor and new at the place.
1. Playa de Fanabe
This is a lovely beach that is particularly calm in the mornings because it is deserted. The ideal sunset can be seen from the beach because the sky is crystal clear and the weather is nice. It's a beautiful spot because the water is so clean and clear. There are numerous restaurants and bars serving a diverse range of cuisines.
2. Playa del Duque
It is one of the lovely beaches having nice hotels and restaurants. You can make your stay on the beach because of its beautiful landscape and various activities. It is visited by many tourists every year because of its best environment and weather conditions. There are a great number of shops containing accessories that Costa Adeje Is famous for. You can enjoy it the most on this beach.
3. Playa De Puerto Colon
It is the most easily accessible beach because you can access it from any side of Costa Adeje. It has all the entertaining activities for the engagement of tourists. You can also enjoy boat trips after visiting this beach. It provides access to various restaurants and food corners that sells the best continental and coastal food that is mouth-watering.
4. Playa del Bobo
It is the beach of relaxation because of its peaceful environment. It is also very calm on the beach with fewer people. It is the best beach for people who prefer privacy and solitude. The sand of the beach is black giving it an aesthetic look. You can also go swimming as the water is warm and not much deep on the bank.
5. Playa Blanca
If you want entertainment and fun this is the best place to visit. It is always populated with a large number of people because of the luxurious activity it is providing. You can also enjoy water sport activities and Adventures on the beach. It is best for the people who like to socialize and enjoy themselves. Cheap car rental services are available by the car hire companies in Spain. You can visit different locations on the beaches if you rent a car.
The top 5 beaches you can visit on Costa Adeje Are discussed in detail. You can find thrilling activities on the beaches which will keep you engaged. They are the famous beaches all across Europe for their natural beauty and relaxing environment. If you are planning to visit Costa Adeje do not miss these beautiful beaches.