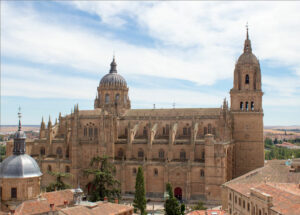 Visiting Salamanca feels like you are strolling through an amazing open-air museum showcasing splendid historical monuments. Here you can find everything from soul-inspiring convents to glorious cathedrals and hallowed halls. The best things to do in Salamanca can easily take you on a journey back in time.
Most amazing things to do in Salamanca
So, here we have some of the best things that you must do in Salamanca:
Plaza Mayor
The Report of UNESCO gives the impressive main square of Salamanca a special mention. The Plaza Mayor was built in the 18th century and features a baroque design. It has 88 arches on the ground level. However, above every pillar here there is a medallion representing a famous personality from the history of Salamanca. You can visit the plaza to explore more about it.
Old and New Cathedral
This is undoubtedly the best thing to do in Salamanca. Here you can see two different construction styles together. The New Cathedral was constructed in the 18th century featuring impressive gothic design along with Renaissance and Baroque elements. While the old one was completed in the 16th century. The old cathedral is built in Romanesque design that can be accessed through the new cathedral. You can even have a breathtaking city view by climbing to its top.
Old town
This can let you step through stone streets that are centuries old. Along with that, you can see numerous buildings in gothic, renaissance, Moorish-style, baroque. Most importantly, the majority of these buildings. The old town also has 20 palaces, mostly dating back to the Spanish Golden Age. You can easily have some amazing sights here.
Salamanca University
This university was built in 1218 under Alfonso IX's reign. It is one of the world's oldest universities that can let you have a nice heritage and architectural impression. The main building has a Plateresque façade built in the 16th century. Most importantly, it has various catholic symbols. Visiting this University can let you know more about it.
Clerecia Church
This church is situated in the old town. This is a baroque-style church that was built in 1617 by the wife of Phillip III order. It is believed that the towers of the church were built to bring believers closer to heaven. The public section is always open for people to visit and includes school rooms and church buildings.
You can rent a car from a reputed rental cars service provider to reach here comfortably. Compare car rental to make the best choice in this regard.
Museo Art Nouveau & Art Decó
Even the building itself is a unique art piece with brickworks and turquoise blue and green stained-glass windows. The structure makes it stand out. This museum has been opened in 1995 and is containing sculptures, paintings, ceramics, and deco pieces.
What it's like renting a car and driving in Spain?
Driving in Spain isn't tough if you are aware of driving rules in Spain. Understand parking, speed limit, and age limit requirements for driving in Spain before hiring car rental.
Overall, you can easily find cheap car hire in Spain with us. If you want to be sure, you can also make a car rental comparison to see car hire companies offering the best prices.