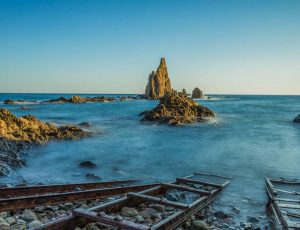 Compare rental cars and renting of a vehicle from several companies in the town, Almería in Spain. We compare large companies as well as small and find the best price for all types of cars.
Easy and safe online booking for rental cars. Search for a city, airport etc. and choose a pick up location. The search will look for all types of models. Rental cars are available at Almería's travel centre, train stations (Almería Railway Station, Estación de Huercal y Viator and Estación Santa Fe y Alhama) and airports like Almería Airport, LEI and ports and ferry terminals that are close by are Almeria Port. Car hire where every cost is included, no hidden fees and free cancellations/amendments up to 24 hours before you pick up the car. National on Estación Intermodal Plaza de la Estación, Hertz Airport on Calle Níjar 9, Enterprise on Plaza de la Estacion S N Estacion Intermodal, Europcar Renfe on Plaza de la Estacion Sn Estacion de Tren y Autobus, Wificar on Calle Reina Regente 0 Viajes Alboran, Eurorent on Carretera 194 Huércal are the companies we compare in the city/country.
Almería (Almeria, Unci) is a town in the municipality, Almeria, Andalusia region, Spain. It is the central city in the area. 6th largest city/town when it comes to inhabitants in the region and the 39th largest district/town in Spain. The city is located about 21 meters above sea level. Read more about what the town has to offer when it comes to experiences and which companies are located in Almeria and the country. Small villages, communities and suburbs nearby are Huércal de Almería, Aguadulce, La Gangosa, La Mojonera, Carboneras, El Barranco del Caballar, La Vega de Acá, El Barranco de Amatisteros, El Jaúl and La Cuesta del Gato. Larger neighbouring cities/communities are El Ejido (c. 84200 pop), Roquetas de Mar (c. 82700 pop), Níjar (c. 26500 pop) and Adra (c. 24400 pop). With a population of 188 800 (2015) within its administrative limits. Almería Bus Station and Aeropuerto Almeria are stops and bus stations in the city. Get some tips on local companies in Almeria.
Tips and recommendations in Almería on activities, museums, experiences, attractions, places, events and destinations you can visit during your trip. Karting Roquetas, Fort Bravo Texas Hollywood, Western Leone, Playground Tráfico de Vícar and Mariopark are water parks, amusement parks or theme parks nearby. If you are craving for activities and experiences with your children. Want to spend a day watching animals? Zoos, aquariums, tropicariums, terrariums, tropical houses and safari parks that are nearby are Aquarium Roquetas. Malls like Mediterráneo are close by if you want to do some shopping. MECA Mediterráneo Centro Artístico, Centro Andaluz de Fotografia, Museum of la Guitarra Almeria and Museum of Almería are located close to the town centre. A day at the museums and art galleries of Almería?
Find the best car hire and cheapest car rental in airports nearby
Find the best car hire and cheapest car rental in airports nearby: Hire a Car Cheap Almería Airport. Car rental in Almería is the best mode of transport for covering short or long distances.
Car rental companies in Almería, Spain
To find the best price, we compare the following companies; Enterprise, Goldcar, Autos Valls, InterRent, Record, Faycan, Orlando, National, Alamo, Hertz, Centauro, Rhodium, Keddy By Europcar, Autoclick, Malco Rent a Car, Nomadcar, Marbesol, Canarias.com, Cooltra Scooter, Orcar Canarias, Budget, Owners Cars, Autos Menorca, Thrifty, Flizzr, TopCar, Atesa, Europcar, King Rent, Avis, Delpaso, Firefly, Dollar, OK Rent a Car, Surprice, Hiper Rent a car, Dickmanns, Autos Aguirre, Hertz Dream Collection, Drivalia, Wiber, Key and Go, ClickRent, Solmar, CICAR, Maggiore, Class Rent a Car, Niza, AutoReisen, La Palma 24 and Sixt. You can usually find the largest selection at airports such as Almería El Alquián Airport. The large companies usually have offices adjacent to the airport.
Van rental & Rent a Car Almería Customer Feedback & Reviews