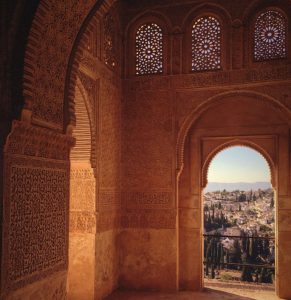 Find the best prices for rental cars online. Comparing prices online can be very profitable, many smaller companies can otherwise only be booked on site. Comparison of rental cars and car hires from several businesses in the town of Granada, Spain.
Car hire at Granada's airports like Granada Airport, GRX, train stations (Granada Railway Station) and travel centres etc. We can offer a car hire service where every cost is included. There are no hidden fees or free cancellations/amendments up to 24 hours before you are supposed to pick up the car. An easy, straight forward and safe search for car hire online. With our search engine, you only need to write the name of the city, place etc. and you will immediately get a list of choices. When you are looking for rental cars we compare these companies; Thrifty on Avenida de Fuente Nueva, Enterprise on Calle Neptuno 8, Avis Estación de Tren on Renfe Estación de Tren Avenida de Andaluces, Hertz Center Hotel on Avenida de Fuente Nueva, Europcar Estación de Tren on Car Return at Parking la Caleta Ave Andaluces 14 Frente Estacion, Budget España on Renfe Estación Avenida de Andaluces, Sixt Renfe on Avenida de Andaluces 12, all with offices on site or in Andalusia.
Granada (Grenade, Granata) is a town in the municipality, Granada, Andalusia region, Spain. It is the central city in the area. 4th largest city/town when it comes to inhabitants in the region and the 24th largest district/town in Spain. About 234 300 (2015) people live in the town. Whether you are visiting the town Granada just for one day or for a longer period, there is plenty to do. Read more further down. Vélez-Málaga (c. 74200 pop), Motril (c. 60300 pop) and Almuñécar (c. 27700 pop) are larger neighbouring communities and cities. Smaller villages, communities and suburbs nearby are Pinos Puente, Ogíjares, Salobreña, Churriana de la Vega, Huétor Vega, Peligros, Illora, Cerrillo de Maracena, Cañaveral, Bobadilla, Pulianillas and Cruz de Lagos. Located about 689 m above sea level. Caleta, Estación Ferrocarril, Universidad, Recogidas, Méndez Núñez, Jaén and Alcázar Genil are subway (metro) stations nearby. Granada Bus Station and Aeropuerto Granada-Jaen are bus stations and stops nearby. Learn more about which companies are located in the country.
Wondering what there is to see and do in Granada? Here are a few suggestions on activities, attractions, museums, events, destinations, places and experiences that are worth a visit during your holiday in the town. Want to watch a game or sports, maybe go to a concert? Close to the city are Plaza de Toros de (Bullring) Granada, Stadium Nuevo Los Cármenes and Municipal Stadium of Albolote. Maybe see a local game of football? If you crave activities and experiences and want to visit e.g. water parks, amusement parks or theme parks you can visit Parque Acuático Aquaola. Look at old historical ruins like Watchtower of Dúrcal and Restos Canal de los franceses.
Find the best car hire and cheapest car rental in airports nearby
Find the best car hire and cheapest car rental in airports nearby: Cheap Hire Cars Málaga-Costa del Sol Airport and Car Hire Granada-Jaén Airport. Cheap Convertible Car Rentals in Granada.
Car rental companies in Granada, Spain
King Rent, Dickmanns, Autoclick, Autos Aguirre, Cooltra Scooter, Thrifty, Niza, Malco Rent a Car, Surprice, Avis, Delpaso, Enterprise, Goldcar, Orcar Canarias, Hertz, La Palma 24, Keddy By Europcar, Maggiore, Wiber, AutoReisen, Atesa, Orlando, Class Rent a Car, OK Rent a Car, Marbesol, Europcar, Dollar, Drivalia, ClickRent, Record, Sixt, Faycan, Firefly, Hertz Dream Collection, TopCar, Canarias.com, Solmar, InterRent, Budget, Hiper Rent a car, Key and Go, CICAR, Owners Cars, Autos Valls, Flizzr, National, Centauro, Alamo, Nomadcar, Rhodium and Autos Menorca are the companies we compare near Granada to find the best price. You can usually find the largest selection at airports such as Federico García Lorca Granada-Jaén Airport. The large companies usually have offices adjacent to the airport.
Van rental & Rent a Car Granada Customer Feedback & Reviews