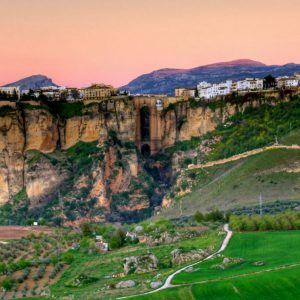 Renting a car with autospain.co.uk, where everything is included, no hidden fees. Easy and safe online booking of car hire. Rent a car at Andalusia's train stations, travel centres and airports such as Seville Airport, Málaga Airport, Córdoba Airport, Granada Airport, Jerez Airport, Almería Airport and Algeciras Heliport. Choose between different locations of where to pick up your car. You can rent through us where the companies have their offices.
Compares rental car prices and car hire from several companies in all destinations in the whole of Andalusia in Spain, and finds the best prices on rental cars. No hidden fees and free cancellations/amendments up to 24 hours before you are supposed to pick up the car. Compare and find good prices from several companies in the country. Choose and compare large companies as well as small ones. Safe encrypted payment. Hertz Dream Collection, Atesa, Maggiore, CICAR, Faycan, Sixt, Thrifty, Autos Menorca, Autos Valls, La Palma 24, AutoReisen, Hiper Rent a car, Nomadcar, Dickmanns, InterRent, Hertz, ClickRent, Orlando, OK Rent a Car, Enterprise, Canarias.com, Flizzr, Drivalia, Surprice, Alamo, National, Orcar Canarias, Delpaso, Goldcar, Avis, Niza, Centauro, Autoclick, Europcar, Dollar, Malco Rent a Car, TopCar, Class Rent a Car, Firefly, Owners Cars, Solmar, Marbesol, Rhodium, Budget, Keddy By Europcar, King rent, Record, Cooltra Scooter, Autos Aguirre are some of the the companies we compares in the region to find the best price.
Information about the area/region Andalusia is located in the country of Spain. The area has about 8 302 900 inhabitants. It is an administrative part of the country of Spain, such as state/county/region or province. Looking at the number of inhabitants Andalusia is the 1th largest region in the country. Some of the highest mountains in the area are Mulhacén (3479 m), Veleta (3394 m), Cerro del Caballo (3013 m), Mirador Alto (2726 m), Alto de las Chorreras (2609 m), Chullo (2612 m), La Sagra (2381 m), Calar de Santa Barbara (2269 m), Morrón de Mariné (2247 m) and Cerro del Almirez (2214 m). Other names for this area are Andalucía, Comunidad Autónoma de Andalucía, Andalusia, Andaluzia. The coasts Costa de la Luz, Costa del Sol, Costa de Almería and Costa Tropical are in the region.
If you want to know more about Andalusia you can read more on the home page. The search looks for all combinations, so seek for airport, city or something like that. Are you planning a wine tour and tasting in Andalusia? Some of the vineyards and wine producers located in the region are, for example, Bodegas Robles, Convento de Morañina, Bentomiz, Bodega F. Schatz, Bodegas F. Salado, Marqués Del Real Tesoro, Rey Fernando De Castilla, Bodegas Excelencia, Bodegas Rubio Millan, Bodegas Privilegio del Condado, Bodegas Alto Almanzora, Bodegas Toro Albalá, Descalzos Viejos, Bodega Joaquín Fernández, Licoreria Olivares, Sancha Pérez Bodega Almazara, Bodegas Castañeda and Bodega Rambla Huarea. Do you want to relax and find a beach for swimming and sunbathing? Playa de Fuentebravía, Playa Alcazaba, Playa Isla Cristina, Playa de las Palmeras, Playa del Cristo, Playa Calahonda, Playa Santa María del Mar, Playa de Santa Bárbara, Playa la Cala and Playa de Getares are located in the region/area. Seville, Malaga, Cadiz, Granada, Cordoba, Almeria, Jaen and Province of Huelva are the largest municipalities/counties/provinces from a total of eight. The largest cities/communities in the area/region are Seville (c. 703200 pop), Málaga (c. 568300 pop), Cordova (c. 328400 pop), Granada (c. 234300 pop), Jerez de la Frontera (c. 207500 pop), Almería (c. 188800 pop), Huelva (c. 148800 pop) and Marbella (c. 134600 pop).
Destinations in Andalusia
Rent a car in cities in the region: Seville, Málaga, Cordova, Granada, Jerez de la Frontera, Almería, Huelva, Marbella, Cadiz and Dos Hermanas. Rent a car in airports in the region: Seville-San Pablo Airport, Málaga-Costa del Sol Airport, Córdoba Airport, Granada-Jaén Airport, Jerez Airport, Almería Airport, Morón Airport, Algeciras Heliport and Rota Naval Air Base. Car hire in airports nearby: Seville-San Pablo Airport, Málaga-Costa del Sol Airport, Córdoba Airport, Granada-Jaén Airport and Morón Airport.
Car rental companies we compare in the region of Andalusia, Spain
We compare for example these companies in the region: Marbesol, AutoReisen, Hertz, Drivalia, King Rent, Autos Menorca, Avis, TopCar, Budget, Keddy By Europcar, Solmar, Sixt, Delpaso, Rhodium, National, Niza, Maggiore, Wiber, Orcar Canarias, Orlando, Alamo, Class Rent a Car, Flizzr, Surprice, Hertz Dream Collection, Dickmanns, Cooltra Scooter, InterRent, Centauro, La Palma 24, Canarias.com, OK Rent a Car, Autoclick, Malco Rent a Car, Thrifty, Faycan, Nomadcar, CICAR, Autos Valls, Hiper Rent a car, Firefly, Record, Europcar, Autos Aguirre, Enterprise, Goldcar, Atesa, Dollar, ClickRent and Owners Cars.
Car Hire & Rent a Car Andalusia Customer Reviews & Feedback