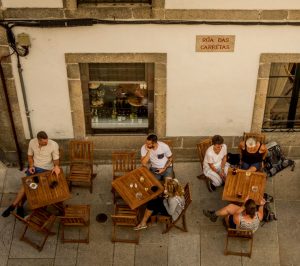 Rental cars are available at Santiago de Compostela's travel centre, train stations (Santiago de Compostela Railway Station, Estación de Sionlla, Osebe, Estación de Berdia, Estación de Berreo and Vedra-Ribadulla) and airports like Santiago de Compostela Airport, A Coruña Airport and Vigo-Peinador Airport, SCQ. A car hire service where every cost is included, no hidden fees and free cancellations/amendments up to 24 hours before you pick up the car. Easy and safe online booking of rental cars. Search for a city, airport etc. and choose a pick up place.
We compare large companies as well as small and find the best price for all types of cars. Compare rental cars and renting of a vehicle from several companies in the city, Santiago de Compostela in Spain. To find the best price we compare following companies Alamo on Estación de Tren Avenida de Lugo 2, Avis on Estación de Tren Horreo, Hertz Leroy Merlin on Camilo Jose Cela, Hertz la Galuresa Estación de Servicio de Repsol on Avenida de Romero Donallo, Go Rental on Avenida de Lugo 139, Enterprise on Estacion de Tren Avenida de Lugo 2, Sixt on Calle Fernando Iii el Santo 43, Europcar Estación de Tren on Estacion de Tren Horreo S N Edf Renfe, Budget España on Hórreo, National on Estación de Tren Avenida de Lugo 2 in Santiago de Compostela.
Information about the city Santiago de Compostela (Compostelako Donejakue, Santiago, Santiago de Compostel·la), located in A Coruña, Galicia region, Spain. It is the county seat in the region. 5th largest city/district when it comes to inhabitants in the region and the 95th largest town/community in Spain. Located about 257 m above sea level. The city had c. 95 100 inhabitants at the end of 2015. A Coruña (c. 246100 pop), Pontevedra (c. 81600 pop), Vilagarcía de Arousa (c. 37600 pop) and Oleiros (c. 33400 pop) are larger neighbouring communities and cities. Sada, O Carballiño, Cambados, Betanzos, Ordes, Bueu, Rianxo, Conxo, Cotaredo, Laraño, Arines and Pardaces de Arriba are smaller suburbs, villages and communities nearby. Regardless of how long you are staying the city there are things to experience and do. Nearby bus stops and bus stations are Santiago de Compostela Bus Station. Learn more about which companies are located in the country.
Are you staying for a long time in Santiago de Compostela? Some suggestions and tips on museums, activities, events, attractions, experiences, destinations and places that are worth a visit during your trip to the city. Are you going on a golf trip and looking for golf courses? The golf courses, Clube de Golf Val de Rois 17 km and Real Aero Club de Santiago 10 km, are located close to the city. Relaxing and beautiful green areas, parks and plantings worth seeing are Park Bonaval, Alameda Park and Park Monte da Almaciga. If you are travelling with children and want to visit an amusement park, water park or theme park, you have these options; Picaros.
Cathedral of Santiago de Compostela, Church of San Francisco and Church of Santa Susana are beautiful cathedrals and churches nearby. Beautiful cloisters or monasteries/nunneries not far away are Convent of San Paio de Antealtares and Monastery of San Martiño Pinario. Experience local culture at an amphitheatre, Auditorio Monte do Gozo, they are located close to the town centre. Why not visit Sala Santiago to experience and see music, plays and shows nearby Santiago de Compostela. Shopping at a mall? Maybe at As Cancelas and Área Central! Look at famous statues and monuments of famous people and events like Pórtico de La Gloria, Monument to Peregrino, Hostal dos Reis Católicos, Monument of Monte do Gozo and Plaza de Platerías. Notable squares or large open spaces that are close by, Praza do Obradoiro and Praza da Inmaculada.
Close to the town centre, the Stadium Multiusos de San Lázaro's are located. See the different teams in town play or are you craving some football? Or want to see a concert? Manors and palaces worth seeing up close nearby in Santiago de Compostela, are Pazo do Cotón, Pazo da Peregrina, Pazo de Raxoi, Pazo de Xelmírez and Palace of Fonseca. All within walking distance. A day at the museums and art galleries of the city? These are located in the central parts of the city at Cathedral of Santiago de Compostela Museum, Zona C, Centro Galego de Arte Contemporánea, Sede Afundación Santiago de Compostela and Museo e Church of San Martín Pinario. Wineries and wine producers that are close to Santiago de Compostela are, for example, Adega Valdes, Mar de Frades, Pazo de Ximonde, Furancho Casa Bascoi and Aguardientes de Galicia. Wine tour and tasting in Spain?
Nearby destinations, Santiago de Compostela
Car hire in airports nearby: Compare Rental Cars Santiago de Compostela Airport, A Coruña Airport and Vigo-Peinador Airport.
Car rental companies in Santiago de Compostela, Spain
Avis, Hertz, Europcar, Budget, Sixt, Thrifty, National, Alamo, Enterprise, Keddy By Europcar, InterRent, Dollar, Firefly, Flizzr, Goldcar, Surprice, Rhodium, Hertz Dream Collection, Autoclick and King rent are the companies we compare in the city/country. You can usually find the largest selection at airports such as Vigo-Peinador Airport, A Coruña Alvedro Airport and Santiago de Compostela Lavacolla Airport. The large companies usually have offices adjacent to the airport.
Car Hire & Rent a Car Santiago de Compostela Customer Reviews & Feedback